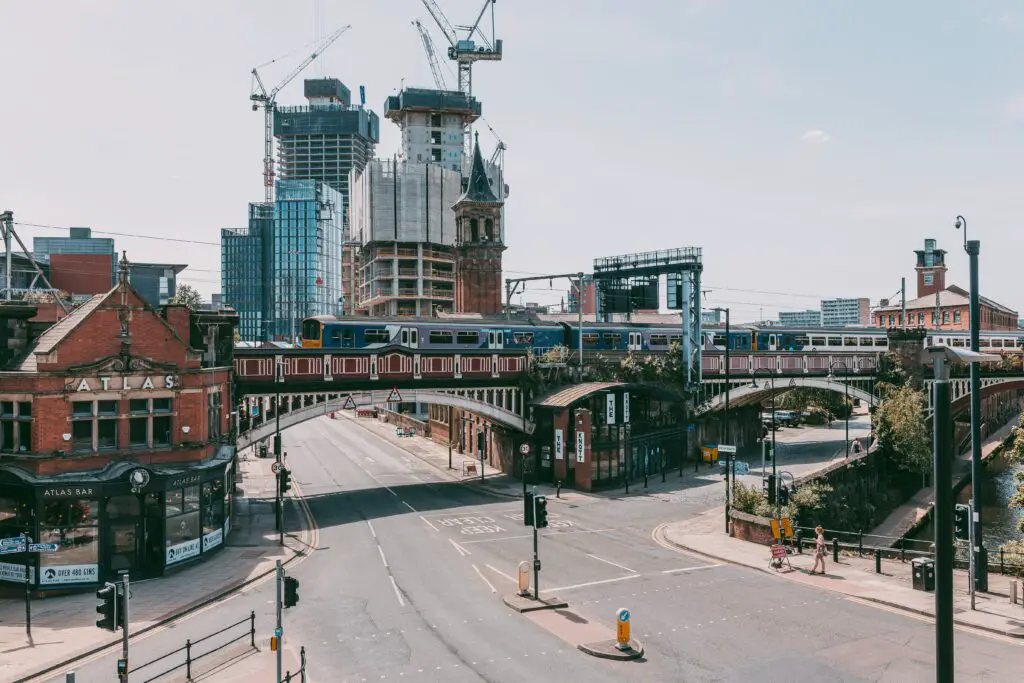 Manchester is a large city of over half a million inhabitants in north-west England. Home to the world's first inter-city passenger railway station and the place where Rutherford split the atom in 1917, Manchester has a long and rich history including being an important port and industrial city. There is also a thriving arts scene with bands like Oasis and Take That hailing from Manchester. There are an abundance of live music venues and festivals throughout the year, many museums and galleries, and bustling nightlife. Manchester is also known for its Gay Village, an LGBT+ friendly area that attracts 20,000 visitors every weekend.
One of Manchester's biggest draws is sport, with both Manchester United and Manchester City being hugely popular football teams. The city has several impressive venues for football, cycling and rugby. Almost a million people travel to Manchester every year for football alone, making sport a profitable and important part of the city's culture.
Like any large city, parking in Manchester can be a bit of a headache. Central car parks tend to be very expensive and it can be hard to find other options if you don't know where to look. On this page, we've gathered all of the best free parking opportunities in and around Manchester city centre. Refer to the map below for a quick look, or read on for more specific information. At the bottom of this page, we've included maps showing the best parking near some popular Manchester locations.
Free Parking in Manchester
Free Car Parks in Manchester
Harpurhey Centre Car Park M9 4BP – maximum 3 hours
Stretford Mall Car Park M32 9BD – maximum 3 hours
Trafford Centre Car Park M17 8AP
One of the best ways to find free parking is to use residential streets around the city. This isn't usually an option if you don't know a city very well. We've compiled a list below, arranged into directions from the city centre and including walking distances.
There are lots of options in the north of the city that aren't too much of a distance from the centre. On a walk from this direction you can stop along the way to see things like the Museum of Transport, the Irish World Heritage Museum, and several large parks and green spaces. The streets further away from the centre are particularly convenient for the North Manchester General Hospital.
Rome Road M40 7RL – 0,6 miles
St Chads Street M8 8QA – 0,7 miles
Knowsley Street M8 8GF – 0,8 miles
Fern Street M8 8GW – 0,8 miles
Empire Street M3 1JB – 0,8 miles
Bent Street M8 8NF – 0,9 miles
Camberwell Street M8 8HG – 0,9 miles
Stocks Street M8 8GG – 0,9 miles
Blacklock Street M8 8HX – 1,1 mile
Barker Street M3 1EE – 1,1 mile
Hoyle Street M12 6HG – 1,1 miles
Woolley Street M8 8WE – 1,1 miles
Sherborne Street M3 1JS – 1,1 miles
Cheetwood Road M8 8AQ – 1,4 miles
Nolan Street M9 5UH – 2,2 miles
Beeston Street M9 5UL – 2,2 miles
Ventnor Street M9 5UN – 2,2 miles
Towton Street M9 4JA – 2,3 miles
Caversham Drive M9 4JH – 2,3 miles
Upper Conran Street M9 4DA – 2,3 miles
Hallworth Road M8 5UW – 2,4 miles
Enver Road M8 5UN – 2,4 miles
Hillier Street North M9 4JB – 2,5 miles
Duchess Road M8 5UP – 2,5 miles
Whiston Road M8 5AU – 2,5 miles
Peakdale Avenue M8 5QB – 2,6 miles
Cobden Street M9 4DY – 2,7 miles
Melbourne Street M9 4EH – 2,7 miles
Willow Hill Road M8 5SG – 2,7 miles
Sherdley Road M8 4GP – 2,8 miles
Bank Road M8 4QE – 2,8 miles
Arlington Street M8 5BJ – 2,8 miles
Saxon Avenue M8 4QH – 2,9 miles
Quilter Grove M9 8DE – 3,1 miles
Parking on the eastern side of the city is probably the most convenient for getting into the centre of Manchester. Walking in from this direction can take you by both Etihad and Manchester City stadiums. Entertainment venues like Hope Mill Theatre and The Warehouse Project are also on the way, with several museums and galleries just a short way off-piste.
Jersey Street M4 6JA – 0,4 miles
Rodney Street M4 6JJ – 0,6 miles
Bothwell Road M40 7NY – 0,6 miles
Garforth Avenue M4 6LA – 0,7 miles
Heyrod Street M1 2WW – 0,7 miles
Adair Street M1 2NQ – 0,7 miles
Wadeford Close M4 6LP – 0,7 miles
Woodward Street M4 7JW – 0,8 miles
Longham Close M11 3WA – 1,5 miles
Isca Street M11 3RN – 1,6 miles
Townley Street M11 3RQ – 1,7 miles
Cyclone Street M11 3RG – 1,7 miles
Siam Street M11 3RH – 1,7 miles
Metcombe Way M11 3BY – 1,9 miles
Stockholm Street M11 4FQ – 2,3 miles
Langness Street M11 4SN – 2,4 miles
Beede Street M11 2AT – 2,2 miles
Eccleshall Street M11 4SH – 2.6 miles
Coming from a southerly direction will mean you get to the city centre via the Gay Village and the Northern Quarter. There are a lot of museums, galleries, and shops dotted around these areas of Manchester. Some of the streets listed are of the closest distance to the centre.
• New York Street M1 4HD – 0.4 miles
• St Andrews Square M1 2NS – 0.8 miles
• St Andrews Street M1 2AH – 0.9 miles
• Temperance Street M12 6HR – 1 mile
• Helmet Street M1 2NT – 1 mile
• Chapelfield Road M12 6JL – 1.1 miles
• Hulme Street M1 5GL – 1.1 miles
• Cambridge Street M1 5GH – 1.2 miles
• Higher Ardwick M12 6BZ – 1.3 miles
• Pittbrook Street M12 6JX – 1.4 miles
• Rockdove Avenue M15 5EH – 1.4 miles
• Hunmanby Avenue M15 5FE – 1.5 miles
• Humberstone Avenue M15 5FD – 1.5 miles
• Beattock Street M15 4JA – 1.7 miles
• Angela Street M15 4HY – 1.7 miles
• Bentinck Street M15 4RS – 1.7 miles
• Galgate Close M15 5AJ – 1.8 miles
• Lower Moss Lane M15 4HS – 1.8 miles
• Halston Street M15 5TD – 1.8 miles
• Ellesmere Street M15 4QR – 1.9 miles
• Hyde Grove M13 9LQ – 1.9 miles
• Spruce Street M15 5TB – 2 miles
• Cecil Street M15 6GD – 2 miles
• Hyde Place M13 9LG – 2 miles
• Radnor Street M15 5RD – 2.1 miles
• Denmark Road M15 6GQ – 2.1 miles
• Hathersage Road M13 0JQ – 2.2 miles
• Moss Lane M14 4LA – 2.2 miles
The next group of streets are slightly further out from the city centre, but are more convenient for other places including Manchester Royal Infirmary, Manchester University, Manchester Museum, The Whitworth, Manchester Academy, and the Victoria Baths.
• Olney Street M13 0EN – 2.3 miles
• Rusholme Place M14 5TE – 2.3 miles
• Banff Road M14 5TA – 2.3 miles
• Westwood Street M14 4SW – 2.3 miles
• Naburn Street M13 0FL – 2.3 miles
• Oxford Place M14 5RR – 2.4 miles
• Heald Place M14 4HX – 2.4 miles
• Upper Park Road M14 5RU – 2.4 miles
• Deramore Street M14 4DT – 2.4 miles
• Maine Road M14 4FS – 2.5 miles
• Acomb Street M14 4DZ – 2.5 miles
• Daisy Bank Road M14 5QD – 2.6 miles
• Conyngham Road M14 5EA – 2.6 miles
This final group of southern streets are a lot further out from the centre of Manchester, so are probably less convenient for that area. However, we've included them because they are all around the Old Trafford area. Parking here puts you close to the Trafford Centre, Old Trafford Stadium and Cricket Ground, o2 Victoria Warehouse, The Quays, and the Coronation Street Tour. There are also several museums here including the IWM North, Ordsall Hall, and the Manchester United museum.
• Leighton Road M16 9WU – 2.9 miles
• Morland Road M16 9PA – 2.9 miles
• Headingley Drive M16 0JP – 3.5 miles
• Wilton Avenue M16 0JH – 3.5 miles
• Great Stone Road M32 0XA – 3.6 miles
• Milton Road M32 0TQ – 3.8 miles
• Radnor Street M32 8LE – 4.3 miles
• Cyprus Street M32 8BD – 4.3 miles
• Lester Street M32 8BS – 4.3 miles
• Howard Street M32 8BW – 4.3 miles
• Henshaw Street M32 8BT – 4.4 miles
• Jackson Street M32 8AY – 4.4 miles
• Bennett Street M32 8SG – 4.6 miles
• Lacy Street M32 8LX – 4.6 miles
• Brunswick Street M32 8NJ – 4.7 miles
• Highfield Road M32 8NQ – 4.8 miles
• Ryecroft Road M32 9BU – 4.8 miles
• Cherry Tree Walk M32 9AT – 4.9 miles
There are less options for free residential parking in the west of the city. On the way into the centre, you can pass Peel Park, People's History Museum, Science & Industry Museum, several live music venues including the Opera House and The Bridgewater Hall, and the Manchester Central Convention Complex.
• Irwell Street M3 5EN – 1.2 miles
• Tudbury Way M3 6TW – 1.3 miles
• St Simon Street M3 7ES – 1.3 miles
• Burton Walk M3 6FG – 1.4 miles
• Barnett Drive M3 6WH – 1.4 miles
• Cannon Street M3 7EU – 1.4 miles
• Duncan Street M5 3SQ – 1.9 miles
• Parsonage Close M5 3GS – 2 miles
• Asgard Grove M5 3TR – 2 miles
• St Bartholomews Drive M5 3GT – 2.1 miles
• Chancel Avenue M5 3SJ – 2.1 miles
• Fairbrother Street M5 3EN – 2.2 miles
• Netherland Street M5 4QR – 2.7 miles
• Steeple Drive M5 4SB – 2.8 miles
• Montford Street M50 2XD – 2.9 miles
• Olympic Court M50 2QP – 3 miles
• Michigan Avenue M50 2GY – 3.2 miles
• Dakota Avenue M50 2PU – 3.3 miles
• Waterside M17 1WD – 3.4 miles
• Elevator Road M17 1BR – 3.7 miles
• Circle South M17 1NF – 3.8 miles
When parking in a residential street, bear in mind the rules for street parking. Do not park on double-yellow lines or over driveways and entrances. Keep noise to a minimum, particularly in the evenings. Be sure to check for any parking restriction signage before leaving your vehicle, and remember that you park there at your own risk.
These free parking options still come at some kind of a cost – time and effort. Some of the streets are a fair distance from the centre of Manchester and require walking, which can be difficult for several groups of people including disabled people, the elderly, and young children.
Free Parking Zones in Manchester
Many streets in Manchester operate on restricted parking times. These are used to make it easier for residents and workers to find parking near their houses or places of work. They operate during particular hours and, during these hours, no parking is allowed unless you hold a permit.
Outside of the operating hours, however, anyone can park in these areas for free – this is particularly useful if you require overnight or weekend parking. There may still be a time limit outside of the permitted hours, so remember to check the signs. Note that it may take some time to find a space in these zones, with no guarantee that you'll get one.
There are 4 different controlled parking zones in Manchester city centre. Zone 1 is available from 8pm-8am every night, and all day on Bank Holidays. Zones 2-4 are available from 8pm-8am Mon-Fri nights, and all day on Bank Holidays.
Cheapest Parking Options in Manchester
If you'd rather have the convenience and security of a paid car park, there are many options – but it can get steep very quickly. We've compiled the cheapest car parks here, including postcodes, in order of distance from the city centre:
Bootle Street M2 5GU – £4 for 2 hours
Bridgewater Street M3 4LY – £4 for 2 hours
Browncross Street M3 5AX – £4 for 2 hours
New Wakefield Street M1 5NR – £3 for 2 hours
Harding Street Arches M3 7BX – £3 for 2 hours
Collier Street Arches M3 4NA – £2 for 2 hours
Granby Row M1 7AJ – £3 for 2 hours
Duke Street M3 4JL – £2 for 2 hours
As in any city, Manchester can be difficult to find reasonably-priced parking in. Armed with the information on this page, we hope that you're able to save a lot of time and money and simply enjoy your visit to this busy, interesting city.
Free and Paid Parking Near Popular Manchester Locations
Free Parking Near Old Trafford Stadium & The Trafford Centre
Free Parking Near Arndale Shopping Centre
Free Parking Near Manchester Piccadilly Station
Free Parking Near Manchester Airport
Free Parking Near Manchester AO Arena
Free Parking Near Etihad Stadium