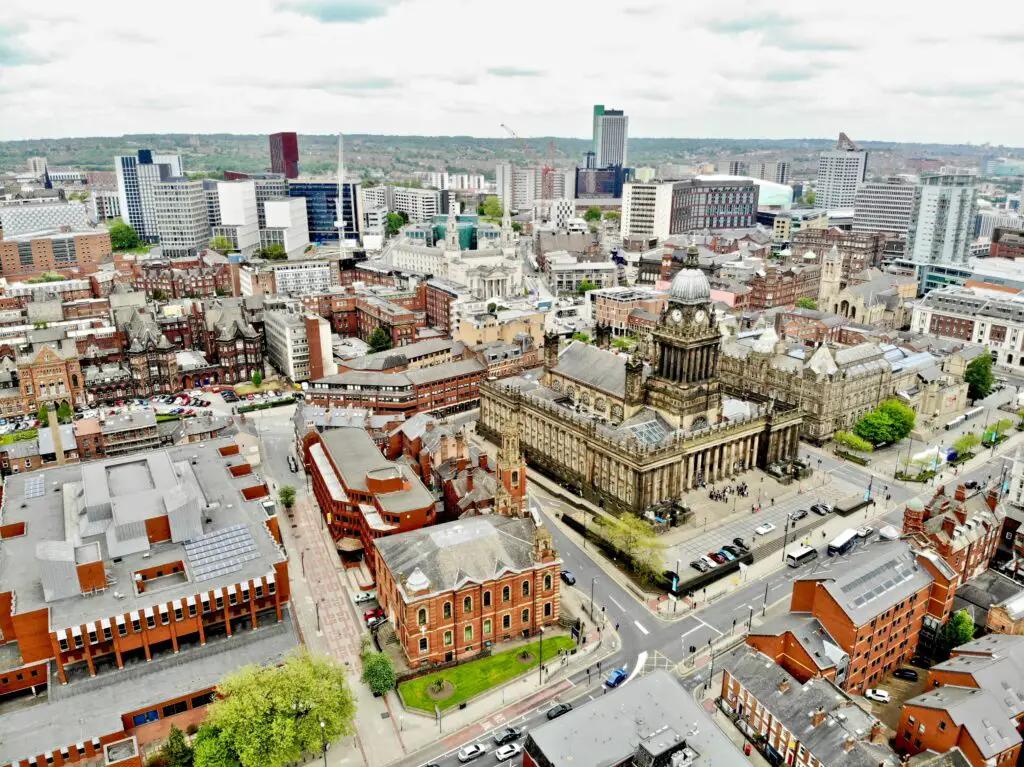 Leeds is a city in Yorkshire, with a population over half a million people, including over 200,000 students. The original market town became a major mill town during the Industrial Revolution, and was a major player in the wool, flax, iron, engineering and printing industries. Leeds sits upon the River Aire and is one of only a few cities outside of London that has a number of high-rise buildings. There are many historical museums including the Royal Armouries Museum, Leeds City Museum, and Abbey House Museum.
Leeds has produced several artists and sculptures, as well as supporting radical art movements. The Leeds Art Club was in support of the Suffragettes and the Independent Labour Party, and the art community pushed a lot of social boundaries through their work. There are many art galleries in the city today, including the Henry Moore Institute (sculpture) and The Tetley (modern arts).
The city also hosts many festivals including Europe's oldest West Indian Carnival. The Leeds International Film Festival is the largest in England outside of London. Other festivals in Leeds include Leeds Pride, Victorian Christmas Fayre, and the Leeds music festival.
As well as this rich culture, Leeds is also a Purple Flag accredited nightlife city, meaning it's one of the safest and diverse cities to have a night out in. There are many pubs, bars, nightclubs, restaurants, and live music venues to enjoy.
Leeds is a big sports hub, home to Leeds United football club, and has team representing many major popular sports like rugby, cricket, athletics, hockey, golf, and synchronised swimming. It has the 11th highest attendance rate in the country for football alone.
As in many city centres, parking in Leeds can be quite difficult if you're unfamiliar with the area. On this page we've compiled maps and lists of places that are free to park in to make planning your time in this diverse city easier.
One of the best options for free parking in any city is to use residential streets, and Leeds is no different. The initial problem is being unfamiliar with a city and having to drive around looking for these streets, with no guarantee you'll find anywhere suitable. In this section, we've compiled a list of streets with free parking opportunities, including their postcodes and the walking distance from Leeds city centre. The streets are also sorted into which direction they are from the centre, for your convenience.
There are several things to bear in mind when you park in a residential street. All on-street parking rules apply – don't cover driveways or entrances; don't park on double-yellow lines; check for any signage stating parking restrictions before you leave your car. Be sure to respect the residents, and keep noise to a minimum (especially at later hours). Also bear in mind that you leave your car in a residential street at your own risk.
There are several convenient residential streets to park in to the north of Leeds. A little further out, you can park near Woodhouse Moor. The walk into town will take you via both the University of Leeds and Leeds Beckett University. This direction also passes the First Direct Arena, Leeds City museum, and Leeds General Infirmary.
Springfield Mount LS2 9NE – 0.7 miles
Mount Preston Street LS2 9JP – 0.7 miles
Wintoun Street LS7 1DX – 0.7 miles
Whitelock Street LS7 1AL – 0.8 miles
Clarendon Road LS2 9PJ – 0.9 miles
Shay Street LS6 2PZ – 1 mile
North West Road LS6 2QF – 1 mile
Education Road LS7 2AL – 1.1 miles
Eltham Drive LS6 2TU – 1.1 miles
Eltham Gardens LS6 2TX – 1.1 miles
Craven Road LS6 2RX – 1.2 miles
Bayswater Row LS8 5LH – 1.5 miles
While there aren't that many options for free parking to the east of Leeds, parking in the following streets will put you close to both St James' and Chapel Allerton hospitals. Walking into the city from this direction can bring you past the First Direct Arena and Leeds Grand Theatre before you get to the centre.
Pilot Street LS9 7NF – 1 mile
Glensdale Grove LS9 9JL – 1.5 miles
Elford Place East LS8 5QB – 1.6 miles
Ashley Terrace LS9 7AQ – 1.7 miles
Florence Grove LS9 7AN – 1.8 miles
Florence Mount LS9 7AU – 1.8 miles
Darfield Crescent LS8 5DA – 1.8 miles
Darfield Avenue LS8 5DB – 1.8 miles
Cowper Avenue LS9 7AZ – 1.9 miles
Coming into Leeds from a southerly direction is a good choice for the shoppers visiting the city. Your route would go by both Crown Point and Trinity shopping centres, as well as the Kirkgate Market, the largest covered market in Europe. Walking via the south will also take you past Leeds railway station and isn't too far off-course for the Royal Armouries Museum, several art galleries, and events venues.
Bath Road LS11 9UA – 0.9 miles
Balm Walk LS11 9PG – 1.3 miles
Meynell Approach LS11 9PZ – 1.3 miles
Pleasant Terrace LS11 9NU – 1.4 miles
St Matthews Street LS11 9NR – 1.4 miles
The following residential streets may be further out from the centre of Leeds, but they are the most convenient for Elland Road stadium, making them ideal for football fans.
Lowfields Road LS12 6BS – 2.1 miles
Low Fields Way LS12 6HQ – 2.1 miles
Benyon Park Way LS12 6DP – 2.1 miles
Latchmore Road LS12 6DN – 2.2 miles
Cross Flatts Terrace LS11 7PD – 2.4 miles
Cross Flatts Place LS11 7JN – 2.4 miles
Sunnyview Avenue LS11 8QY – 2.4 miles
Cross Flatts Grove LS11 7BW – 2.5 miles
Waincliffe Terrace LS11 8EZ – 3 miles
Waincliffe Drive LS11 8ET – 3 miles
Cardinal Grove LS11 8HG – 3.2 miles
Cardinal Avenue LS11 8HF – 3.2 miles
Thirlmere Gardens LS11 8HL – 3.3 miles
Thirlmere Close LS11 8JH – 3.3 miles
Parking to the west of Leeds city centre is most convenient for Leeds General Infirmary and Leeds Beckett University. You will also pass a couple of squares, including Hanover and Park. Coming from this direction would also be some of the shorter walks you would need to take to get into the centre.
Kendal Bank LS3 1NR – 0.7 miles
Kendal Close LS3 1NT – 0.7 miles
Hyde Terrace LS2 9LN – 0.7 miles
Consort View LS3 1NX – 0.9 miles
Parking in residential streets, though free, comes with its own risks and potential setbacks. There is also another kind of cost – time and effort. Some of the streets listed are a fair distance from the city centre, and would take time to walk there. This could be especially difficult for the elderly or disabled people, and families with younger children.
Park & Ride Services in Leeds
As there aren't a huge amount of residential streets with free parking opportunities, another option you might consider is a Park & Ride. Leeds has three of these servicing the city centre, and prices can be much more reasonable than a central city car park.
Leeds' Park & Ride services offer free WiFi on all buses, with the buses running every 10-20 minutes depending on which car park you embark from. The car parks themselves are secure and well-lit, with heated and staffed waiting areas.
Elland Road LS11 0EB – 1358 spaces: South & West of Leeds
Temple Green LS9 0AA – 1391 spaces: North & East of Leeds
Stourton LS10 1FF – 1200 spaces: South & Southwest of Leeds
Up to 3 children under the age of 19 can travel per one fare-paying adult, making the Park & Ride ideal for larger families and groups. The ticket prices are as follows:
Day Ticket: £3.00
5 People For £5.00 – available on Saturdays for 5 people travelling together
Off-peak Day Ticket (after 1pm): £2.00 – starting point only from Temple Green
Off-peak Day Ticket (after 3pm): £1.00 – starting point only from Temple Green
Concessionary Passes for Senior, Blind and Disabled people (after 9:30 Mon-Fri and all day Saturday): £2.00
All-day Saturday (from Temple Green only): £2.00
Cheapest Paid Parking Options in Leeds
If you would prefer the convenience and extra security of a paid car park, you still don't have to break the bank. While parking in the very centre of Leeds is expensive, we have found several options that are less so, listed below:
Leeds Beckett University LS1 3HB – £3.40 for 2 hours
Rose Bowl LS1 3HB – £3.40 for 2 hours
International Pool LS1 4PH – £3.50 for 2 hours
Skinner Street LS1 4LX – £3.60 for 2 hours
Woodhouse Lane LS2 3AX – £2.20 for 2 hours
Crown Street LS2 7DE – £3.60 for 2 hours
Hunslet Lane LS10 1ES – £3.70 for 2 hours
Leeds is a vibrant and busy city, with something for everyone. We hope that, armed with this page's information, you can find cheaper or completely free places to park and get on with enjoying your time there.
Free & Paid Parking Near Popular Leeds Locations
You can use the maps below to find both free and paid parking options near some of the popular Leeds locations and attractions. The yellow pins on the maps are the free parking and the orange pins are the nearest paid parking options.
Free Parking near Leeds City Centre
Free Parking near Royal Armouries Museum
Free Parking near Leeds Train Station
Free Parking near Leeds United Elland Road Stadium
Free Parking near First Direct Arena