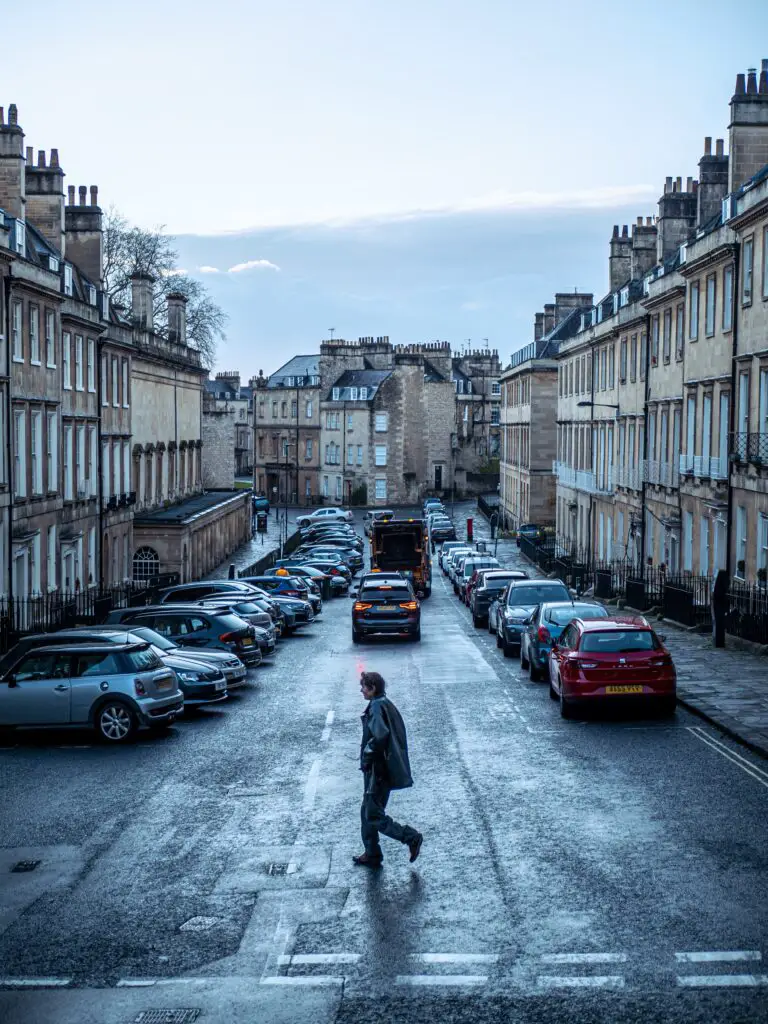 Bath is the biggest city in Somerset. Named after the famous ancient Roman baths established there in the second and third centuries AD, Bath sits in the valley of the River Avon and attracts around 6 million tourists every year. As well as the baths themselves, the city has a wealth of historical architecture including Bath Abbey, the Royal Crescent, and many fantastically preserved Georgian buildings.
The entire city is a World Heritage Site with many famous names having lived or hailed from it including Jane Austen, Bill Bailey, and Mary Berry. Bath is also known for its many parks and green spaces, the canal, and its world famous arts scene.
The centre of Bath involves a lot of pedestrian streets, one-way systems, and very narrow roads. Parking can be very difficult, especially with the added factor of permit-restricted zones operating within the centre. As in most cities, parking in the centre of Bath can be very expensive. On this page, we've gathered all of the free parking options available in Bath – refer to the map below to see these options. Read on for more information and cheaper paid parking in the city.
Bath University Car Park BA2 7JX – free after 5pm every day, all day on public holidays
Sydney Road BA2 6NS – 4 hours maximum
Raby Mews BA2 4EJ – 2 hours maximum
Sydney Wharf BA2 4BG – 4 hours maximum
Daniel Street BA2 6NB – 2 hours maximum
Like a lot of busy cities, the centre of Bath operates using restricted parking zones. Parking in these areas within the controlled parking times requires a permit. However, outside of the times listed, you are able to park for free and without a permit.
In Bath, all zones are available from 7pm-7am Monday-Saturday nights and all day on Sundays. Be sure to double-check all nearby signage to check the hours that you're allowed to park, and whether time limits are in effect.
One of your best bets in Bath is to find free residential street parking that doesn't fall under restricted parking rules. This can be difficult if you're not familiar with a city. Below we've found the streets that have free parking opportunities, organised into direction and distance away from the city centre for your convenience.
Parking in the north of Bath offers an interesting walk into the city centre. Depending on your route you can pass: Royal Crescent, the Bath Assembly Rooms, Fashion Museum, Museum of Bath at Work, and the Jane Austen Centre.
Saint Stephens Close BA1 5PP – 1 mile
Richmond Hill BA1 5QT – 1.1 miles
Mount Beacon BA1 5QH – 1.2 miles
Purlewent Drive BA1 4BD – 1.8 miles
Cranwells Park BA1 2YD – 1.2 miles
Parking in the easterly residential streets of Bath are most convenient for anyone coming from London, and aren't too far of a walk into the centre. Coming in from this direction takes you by several historical places including Pulteney Bridge, the Bath Locks, and the Roman Baths. Museums like the Holburne Museum and Victoria Art Gallery dot the way, as well as the beautiful riverside Parade Gardens.
Church Street BA1 1NL – 0.2 miles
Edward Street BA2 4DU – 0.6 miles
Bathwick Hill BA2 6LB – 0.8 miles
Saint Anns Way BA2 6BT – 0.9 miles
Sham Castle Lane BA2 6JL – 1.1 mile
Cleveland Walk BA2 6JW – 1.1 miles
Macaulay Buildings BA2 6AS – 1.3 miles
Parking in any of the streets below will take you on a walk over the river and past the historic train station. On your way to the centre, you can stop off at Alexandra Park's Bath Skyline to see beautiful views of the city.
Beechen Cliff Road BA2 4QR – 0.8 miles
Hayesfield Park BA2 4QE – 0.8 miles
Widcombe Hill BA2 6AR – 0.9 miles
Chaucer Road BA2 4QU – 1 mile
Milton Avenue BA2 4QZ – 1 mile
Your best bet for finding free parking in residential streets is in the west of Bath. These streets are relatively close to the centre, and there are a lot more options. Walking in from the west will take you over the River Avon and the canal, and past Green Park.
Stothert Avenue BA2 3FH – 0.6 miles
Victoria Bridge Road BA2 3FJ – 0.6 miles
Midland Road BA2 3GJ – 0.8 miles
Shaftesbury Road BA2 3LQ – 0.9 miles
Dorset Street BA2 3RA – 0.9 miles
Stuart Place BA2 3RQ – 0.9 miles
Caledonian Road BA2 3RD – 0.9 miles
Ayr Street BA2 3RJ – 1 mile
Maybrick Road BA2 3PU – 1 mile
Herbert Road BA2 3PR – 1 mile
Audley Avenue BA1 3BL – 1 mile
Hungerford Road BA1 3BU – 1 mile
Audley Park Road BA1 2XJ – 1 mile
West Avenue BA2 3QB – 1.1 miles
South Avenue BA2 3PY – 1.1 miles
Shaftesbury Mews BA2 3LU – 1.1 miles
The Linleys BA1 2XE – 1.1 miles
Badminton Gardens BA1 2XS – 1.2 miles
Kennington Road BA1 3EA – 1.3 miles
Warwick Road BA1 3EB – 1.3 miles
Gainsborough Gardens BA1 4AJ – 1.4 miles
Foxcombe Road BA1 3ED – 1.4 miles
Combe Park BA1 3NE – 1.5 miles
Weston Lane BA1 4AQ – 1.5 miles
Lucklands Road BA1 4AX – 1.7 miles
Penn Lea Road BA1 3RB – 1.8 miles
Saint Michaels Road BA2 1PZ – 2 miles
Being able to park for free in Bath still incurs a cost – your time and effort. Spaces aren't guaranteed and it could take a while to find one. Walking from the street you park in can be more difficult if your group includes the elderly, children, or disabled people. These difficulties are compounded by Bath being very hilly!
Cheapest Parking Options in Bath
If you'd prefer the convenience of a paid car park, we've also made a shortlist of the cheapest paid options.
Bath Sports & Leisure Centre BA2 4ET – £3.20 for 2 hours
Cattle Market BA1 5BD – £3.20 for 2 hours
Avon Street BA1 1UF – £3.20 for 2 hours
Green Park Road BA1 1UT – £3.20 for 2 hours
Claverton Street BA2 4JP – £3.20 for 2 hours
Parking in Bath doesn't have to break the bank. Armed with this information, we hope you're able to find a free or discounted parking space and enjoy this beautiful historic city.
Free and Paid Parking Near Popular Bath Locations
Free Parking near Bath Abbey & the Roman Baths
Free Parking near Pulteney Bridge and Bath Weir
Free Parking near Bath Spa Train Station & Southgate Shopping Centre
Free Parking near Bath City Centre, The Forum & Theatre Royal
Free Parking near Victoria Park & Royal Crescent