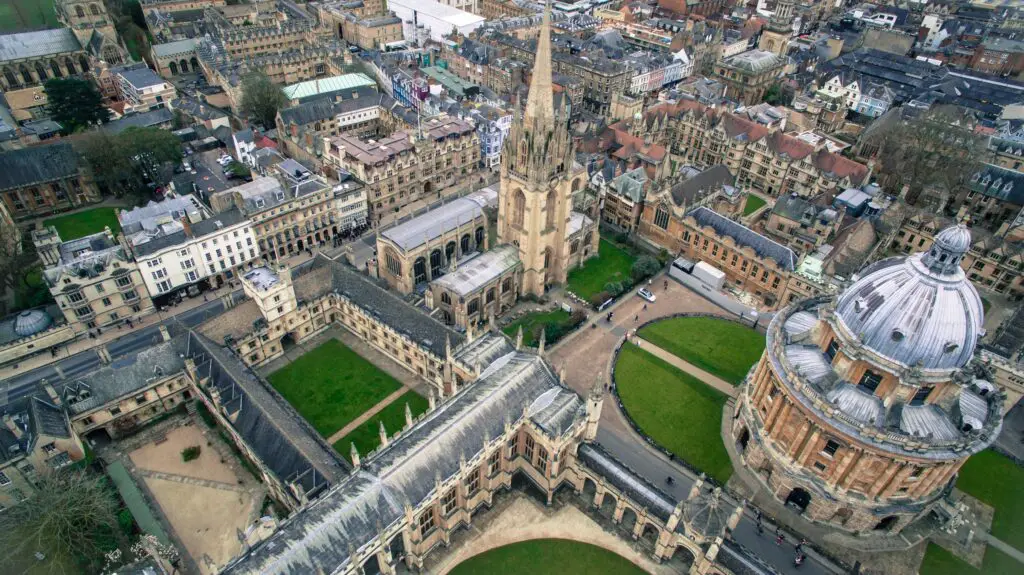 Oxford is a city in the south of England, most well known for its university – founded in 1096, it's the oldest English speaking university in the world and very prestigious. The population of Oxford is estimated at only 152,000 but the city welcomes around 7 million tourists every year, mostly because of the historical architecture and university campuses in the city centre.
Many famous authors are linked with Oxford and the university, most notably including J.R.R. Tolkien and C.S. Lewis. Oxford also boasts many museums and art galleries, including the world's first university museum (the Ashmolean), as well as the biggest university library system in the UK. The city is rich in history, culture, and education, making it a very popular place to visit.
As with many city centres, parking in Oxford city centre can be difficult and incur hefty costs. However, there are free parking options if you know where to look. We've put together this page with all of the free parking in Oxford. The map below gives you a quick look at the options, but read on for more information – including the cheapest paid parking.
Your best bet for free parking in Oxford is to park in a residential street and walk into the city centre from there. When parking in residential streets, be considerate of the people who live there. Observe the usual on-street parking rules like keeping entrances and driveways clear. Don't park on double yellow lines. Keep noise to a minimum, particularly at later hours. Always bear in mind that you park on residential streets at your own risk, and check for any signs stating restrictions before leaving your vehicle.
If you're unfamiliar with a city, it can take time to find available on-street parking and you're not guaranteed to happen upon them unless you know where to look. In the list below, we've organised all of the residential streets with free parking based on which direction they lie from Oxford centre, with postcodes and walking distances included.
Free parking in the northern residential streets of Oxford are a bit more of a walk into the city centre. However, they're convenient if you want to visit a couple of the beautiful green spaces like Port Meadow and the University Parks (where you can find Tolkien's Bench). You will also hit the Museum of Natural History and the Ashmolean Museum before getting into the city centre proper, not to mention the many university colleges, including St Catherine's and Magdalen, and the huge Bodleian Library. The famous Bridge of Sighs is near the end of this route.
• Gouldland Gardens OX3 9DQ – 2.5 miles
• Gorse Leas OX3 9DJ – 2.5 miles
• Westlands Drive OX3 9QR – 2.5 miles
• John Buchan Road OX3 9QN – 2.6 miles
• Meaden Hill OX3 9QJ – 2.6 miles
• Halliday Hill OX3 9PY – 2.6 miles
• Upway Road OX3 9QH – 2.7 miles
• Steep Rise OX3 9QG – 2.7 miles
• Fairlawn End OX2 8AR – 2.7 miles
• First Turn OX2 8AH – 2.7 miles
• Foxwell Drive OX3 9QA – 2.8 miles
• Harefields OX2 8HG – 2.8 miles
• Holt Weer Close OX2 8NW – 2.8 miles
• David Walter Close OX2 8NJ – 2.9 miles
• Kendall Crescent OX2 8NE – 2.9 miles
• Priors Forge OX2 8NN – 2.9 miles
• Sparsey Place OX2 8NL – 2.9 miles
• Pennywell Drive OX2 8NB – 2.9 miles
• Templar Road OX2 8LT – 2.9 miles
Parking in an easterly direction, depending on the distance, can be convenient for visitors to the John Radcliffe Hospital. There are also many university recreation grounds, parks, and the Parsons' Pleasure bathing place along the way to the centre of Oxford. The route will also take you through many of the Oxford University campuses and buildings, for a lovely architectural walk.
• Cowley Place OX4 1DX – 0.7 miles
• Whitson Place OX4 3DD – 1.5 miles
• Essex Street OX4 3AW – 1.5 miles
• Hertford Street OX4 3AJ – 1.5 miles
• Catherine Street OX4 3AH – 1.5 miles
• Sidney Street OX4 3AG – 1.5 miles
• Ridgefield Road OX4 3BZ – 1.6 miles
• Kenilworth Avenue OX4 2AW – 1.6 miles
• Belvedere Road OX4 2AZ – 1.6 miles
• Drove Acre Road OX4 3DF – 1.6 miles
• Boundary Brook Road OX4 4AW – 1.6 miles
• Cumberland Road OX4 2DA – 1.7 miles
• Coniston Avenue OX3 0AW – 2.2 miles
• Derwent Avenue OX3 0AR – 2.2 miles
The streets below are more south-easterly and a further walk from the centre, but are much nearer to the Templars Square shopping centre. You will also pass several parks and green spaces on the walk to the centre. These streets are also more convenient for getting to the o2 Academy Oxford and the Botanic Garden.
• Clive Road OX4 3EJ – 2.3 miles
• Temple Road OX4 2HL – 2.3 miles
• The Grates OX4 3LJ – 2.7 miles
• Gaisford Road OX4 3LQ – 2.7 miles
• Napier Road OX4 3HZ – 2.7 miles
• Atkyns Road OX3 8RA – 2.8 miles
• Liddell Road OX4 3QU – 2.8 miles
• Dodgson Road OX4 3QS – 2.8 miles
• Snowdon Mede OX3 7TQ – 2.3 miles
• Bowness Avenue OX3 0AJ – 2.3 miles
• Eden Drive OX3 0AB – 2.3 miles
• Stansfield Close OX3 8TH – 2.8 miles
• Herschel Crescent OX4 3TT – 3 miles
Parking south of the city centre will put you amongst many different parks and green spaces, including Iffley Meadows and Hinksey Park. You also get to cross the River Thames at the Folly Bridge and will pass by the Westgate shopping centre.
• Lake Street OX1 4RP – 0.9 miles
• Oswestry Road OX1 4TL – 1.3 miles
• Augustine Way OX4 4DG – 1.9 miles
• Marsh Road OX4 2HH – 2.1 miles
• Vicarage Road OX1 4RB – 1 mile
• Abingdon Road OX1 4PS – 1 mile
• Norreys Avenue OX1 4ST – 1.1 miles
• Sunningwell Road OX1 4SZ – 1.1 miles
• Lincoln Road OX1 4TB – 1.2 miles
• Monmouth Road OX1 4TD – 1.2 miles
• Northampton Road OX1 4TG – 1.2 miles
• Iffley Road OX4 1SD – 1.2 miles
• Wytham Street OX1 4TN – 1.3 miles
• Chatham Road OX1 4UY – 1.3 miles
• Warwick Street OX4 1SZ – 1.4 miles
• Peel Place OX1 4UT – 1.4 miles
• Quartermain Close OX4 4AP – 1.6 miles
• Meadow Lane OX4 4BJ – 1.6 miles
• George Moore Close OX4 4BZ – 1.7 miles
• Woodhouse Way OX4 4JN – 2.1 miles
• Bay Tree Close OX4 4DT – 2.1 miles
• Tree Lane OX4 4EY – 2.1 miles
• Abberbury Road OX4 4ES – 2.2 miles
• Rymers Lane OX4 3JX – 2.2 miles
• Stone Quarry Lane OX4 4HE – 2.3 miles
• Church Hill Road OX4 3SE – 2.4 miles
• St Lukes Road OX4 3JD – 2.6 miles
• Littlemore Road OX4 3SS – 2.6 miles
There are less parking options to the west of the city. However, walking to Oxford centre from this direction will take you over the Thames, past Oxford train station and into the city via the Oxford Castle & Prison. You will also walk through Nuffield and St Peter's colleges.
• Elms Road OX2 9JZ – 1.8 miles
• Arthray Road OX2 9AA – 1.9 miles
• Hazel Road OX2 9LF – 2 miles
• Seacourt Road OX2 9LN – 2 miles
• Finmore Road OX2 9AE – 2 miles
• Conifer Close OX2 9HP – 2.1 miles
• Montagu Road OX2 9AQ – 2.1 miles
• Crabtree Road OX2 9DU – 2.2 miles
• Cope Close OX2 9AJ – 2.2 miles
• Hutchcomb Road OX2 9HL – 2.2 miles
Due to how busy Oxford gets, the central area of the city operates with restricted parking zones. This is for several reasons including: traffic calming, easier access for buses and deliveries, more parking opportunities for people who live and work in the area. Parking restrictions are enforced at particular times – during these times, only permit holders can use the restricted parking zones. Outside of these times, however, anyone has the right to park there for free.
There are 4 zones in Oxford and they are all restricted at the same times. They are available from 6:30pm-8:00am every night. Always remember to double-check nearby signage for additional restrictions or changes in times.
Oxford Park & Ride Services
An option that isn't technically free, but much more reasonably priced, is the 5 Park & Rides servicing Oxford centre. Parking your car at any of these is easy and cheap (starting at just £2 for up to 11 hours) with just a bus fare to pay for all day access to the city. Park & Ride is also useful for overnight stays in Oxford, as you can leave your car for up to 72 hours and the car parks are open 24/7, making collection possible at any time.
The Park & Ride sites in Oxford are:
Oxford Parkway (758 spaces) – north of city
Pear Tree (1035 spaces) – north of city
Redbridge (1412 spaces) – south of city
Seacourt (794 spaces) – west of city
Thornhill (1335 spaces) – east of city
Bus fares are as follows:
Combined Ticket: Parking for up to 11 hours and a day return bus ticket into oxford for 2 adults and up to 3 children – £6.80
Single, no parking included: £1.80
Same day return, no parking included: 2.80
Period return (up to 72 hours), no parking included: 3.00
2 To Go: Same day return for two adults, no parking included – £4.80
2 To Go Period: Return within 72 hours for two adults, no parking included – £5.50
Child Single: £0.90
Same Day Child Return: £1.40
Cheapest Paid Parking in Oxford
If you would prefer the security and convenience of using a car park, there are paid options that won't completely break the bank. Below we've gathered a short list of the cheapest car parks, in order of distance from the city centre:
Westgate OX1 1SL – £4 for 2 hours
Saint Clements Street OX4 1AB – £2.70 for 2 hours
Hinksey Park OX1 4PZ – £2.10 for 2 hours
Oxford Spires Hotel OX1 4PS – £4 for 2 hours
Union Street OX4 1JP – £2.70 for 2 hours
Walton Well Road OX2 6ED – £2.10 for 2 hours
Parking in Oxford can be a headache if you go in unprepared. We hope that the information on this page can help to make parking free (or at least cheaper) and easier. With the money you save, you can more enjoy everything this beautiful, ancient city has to offer.
You can use the maps below to find both free and paid parking options near some of the popular Oxford locations and attractions. The yellow pins on the maps are the free parking and the P symbol in an orange circle are the nearest paid parking options.
Free Parking near Oxford High Street & City Centre
Free Parking near Westgate & Clarendon Shopping Centres
Free Parking near Oxford Train Station
Free Parking near Oxford's Natural History & Ashmolean Museums
Free Parking near Oxford International Airport