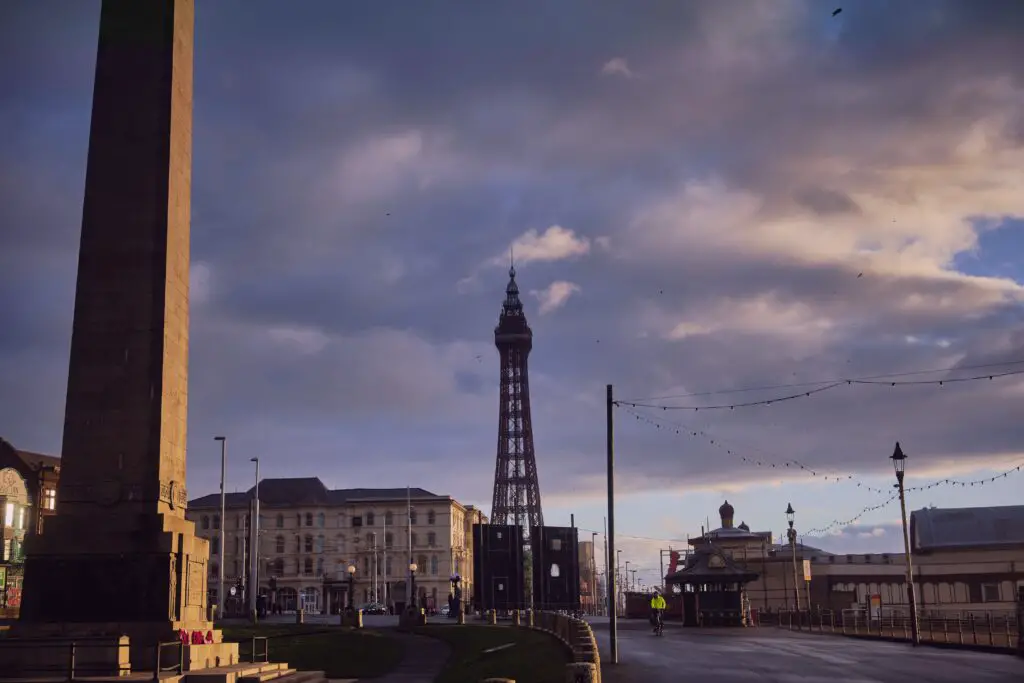 Blackpool is a famous, large seaside resort on the northwest coast of England. As well as a permanent population of around 140,000, Blackpool welcomes millions of tourists every year. It is known as an archetypal British seaside resort with beaches, piers, a promenade, arcades, and other attractions.
With the railway boom of the 19th century, it became easier for Victorian people to travel to the coast for holidays, making Blackpool much more accessible as a tourist town. It's most popular in the summer, but there are also reasons to go in the off-season – the Blackpool Illuminations in autumn time is a major attraction.
Blackpool Tower is one of the most famous structures of the town. It was the tallest building in Europe when it was first built in 1894 and – though it doesn't hold that title any more – it's still visited by over half a million people every year. The view from the top is a major draw, and the ballroom is well-known by Strictly Come Dancing fans, as well as being open every day for dances and events.
Blackpool is also home to Pleasure Beach, an amusement park visited by around 5 million people annually. It's one of the biggest tourist attractions in the country, and the Big One rollercoaster is the tallest in the United Kingdom, with a 62 metre drop. Other popular attractions include the Grand Theatre, Blackpool Zoo, and the Heritage tramway.
The nightlife of the town is lively and varied, with Blackpool long being known as an LGBT-friendly and safe place to go out. There is a big music scene with genres spanning from indie to grime. Punk rock is well represented in Blackpool, with Rebellion festival being the biggest punk festival in the world. The town has produced musicians including Robert Smith of The Cure, Chris Lowe of Pet Shop Boys, and Colleen and Bernadette Nolan. Radio personality Zoe Ball also hails from Blackpool.
With so many reasons to visit Blackpool, it's no surprise that tourism is booming. This can create problems when driving to the town, as parking can be difficult to find and very expensive when using conventional car parks. On this page, we've gathered information on places you can park for free and save up to £20 every day.
Free Parking in Blackpool
Free Parking in Blackpool
Your best option in a popular town like Blackpool is to find residential streets that don't have parking restrictions. This can be tricky if you're unfamiliar with an area, so we've done the hard work for you. Below, we've listed residential streets grouped into which direction they lie from the Central Pier, including postcodes for your GPS and walking distances to the Pier.
Bear in mind the rules for on-street parking if you decide to leave your car in a residential street. Avoid blocking driveways and entrances, and never park on double-yellow lines. Always check for any signs restricting parking before you leave your vehicle and – particularly in the evening – keep noise to a minimum out of courtesy to residents.
Parking in the north of Blackpool offers some of the shortest walking distances to the South Pier. It's especially convenient for access to Blackpool North train station and the North Pier, as well as being closer to the site of the annual Blackpool Illuminations. You can also see the Grundy Art Gallery before getting to the main town including shopping, restaurants and bars, and entertainment venues like Blackpool Tower, the Opera House, and Winter Gardens.
Victoria Street FY1 4RW – 0,8 miles
Banks Street FY1 2DT – 0,9 miles
Lord Street FY1 2DJ – 0,9 miles
Pleasant Street FY1 2HU – 1,0 mile
Ashburton Road FY1 2PE – 3,0 miles
Coleridge Road FY1 3SD – 3,0 miles
Boothley Road FY1 3RR – 4,0 miles
Cromwell Road FY1 2QQ – 6,0 miles
Claremont Road FY1 2QJ – 7,0 miles
Mansfield Road FY3 7AE – 9,0 miles
Parking in an easterly direction from the South Pier means that you can walk right into the town centre and be in the thick of things fairly quickly before hitting the promenade, piers, and beaches.
Harrison Street FY1 4AP – 0,6 miles
Hornby Road FY1 4HY – 0,7 miles
Levens Grove FY1 5LA – 0,8 mile
Raikes Parade FY1 4EX – 0,8 miles
Bela Grove FY1 5PR – 0,9 mile
The next set of streets are a further walk from the Pier. However, they are closer to the Blackpool Zoo, Model Village & Gardens, Victoria Hospital, and several golf clubs.
Fordway Avenue FY3 8JL – 1,7 miles
Ingleway Avenue FY3 8LH – 1,8 miles
Deneway Avenue FY3 8JS – 1,8 miles
Torsway Avenue FY3 8JF – 1,9 miles
Bardsway Avenue FY3 8JP – 1,9 miles
Preston Old Road FY3 9PL – 1,9 miles
Patterdale Avenue FY3 9QR – 1,9 miles
North Park Drive FY3 8NQ – 1,9 miles
St Leonards Road FY3 9RE – 1,9 miles
Lulworth Avenue FY3 9SN – 2 miles
Barmouth Avenue FY3 9SL – 2 miles
Torquay Avenue FY3 9SJ – 2 miles
Abbotsford Road FY3 9RX – 2 miles
Doncaster Road FY3 9SQ – 2,1 miles
Lancaster Road FY3 9SR – 2,2 miles
Parking in the south of Blackpool offers the most options. Though these streets are further from the Central Pier and town centre, they put you closer to Pleasure Beach and the South Pier. These locations are also good for people visiting Bloomfield Road football stadium. On the route are two train stations (Blackpool Pleasure Beach and Blackpool South). The furthest southern streets are also very convenient for parking near Blackpool Airport.
Hill Street FY4 1DG – 1,1 miles
Falmouth Road FY1 6LQ – 1,1 miles
Shetland Road FY1 6LW – 1,1 miles
Rawcliffe Street FY4 1BX – 1,1 miles
Westbourne Avenue FY1 6JA – 1,1 miles
Bright Street FY4 1BS – 1,2 miles
Dunelt Road FY1 6LR – 1,2 miles
Hudson Road FY1 6LY – 1,2 miles
Moore Street FY4 1DA – 1,2 miles
Ansdell Road FY1 6PF – 1,2 miles
Westfield Road FY1 6NX – 1,2 miles
Arnside Avenue FY1 6NB – 1,2 miles
Dean Street FY4 1BP – 1.2 miles
Station Road FY4 1EU – 1,2 miles
Harlech Avenue FY1 6ND – 1,3 miles
Lunedale Avenue FY1 6LL – 1,3 miles
Weston Place FY1 6LN – 1,3 miles
Withnell Road FY4 1HF – 1,3 miles
Osborne Road FY4 1HQ – 1,3 miles
Balmoral Road FY4 1HR – 1,4 miles
Hall Avenue FY4 3AQ – 1,4 miles
Chislehurst Avenue FY4 3AP – 1,5 miles
Coniston Road FY4 2BY – 1,5 miles
Thames Road FY4 1ED – 1,8 miles
Woodstock Gardens FY4 1JW – 1,8 miles
Ullswater Road FY4 2BZ – 1,9 miles
First Avenue FY4 2EY – 1,9 miles
Kenilworth Gardens FY4 1JL – 1,9 miles
Burlington Road FY4 1JS – 1,9 miles
Broadway FY4 2HE – 1,9 miles
Ventnor Road FY4 1LE – 1,9 miles
Thirlmere Road FY4 2DA – 2 miles
Second Avenue FY4 2EX – 2 miles
Third Avenue FY4 2EU – 2 miles
Rosebery Avenue FY4 1LA – 2 miles
Eastbourne Road FY4 1LQ – 2 miles
Horncliffe Road FY4 1LJ – 2,1 miles
Boscombe Road FY4 1LW – 2,1 miles
Clifton Drive FY4 1NP – 2,1 miles
Bournemouth Road FY4 1LP – 2,2 miles
St Lukes Road FY4 2EG – 2,2 miles
Dunes Avenue FY4 1PY – 2,3 miles
Bentinck Avenue FY4 1SD – 2,3 miles
Raleigh Avenue FY4 1SG – 2,4 miles
Albany Avenue FY4 1QB – 2,4 miles
Stony Hill Avenue FY4 1PW – 2,4 miles
Bosworth Place FY4 1SH – 2,5 miles
Stadium Avenue FY4 3QB – 2,5 miles
Selby Avenue FY4 2LY – 2,5 miles
Tewkesbury Avenue FY4 2NF – 2,6 miles
Balham Avenue FY4 3QP – 2,6 miles
Lindale Gardens FY4 3PQ – 2,6 miles
Ivy Avenue FY4 3QF – 2,6 miles
Weeton Avenue FY4 3QW – 2,7 miles
Longridge Avenue FY4 3QN – 2,7 miles
Westby Avenue FY4 3QL – 2,7 miles
Though parking in residential streets are free, they come at a different cost. There's no guarantee that you will find a space, and it could take some time before you. As well as this, there is also a walk to where you want to get to, making parking in a residential street a less valid option for people with disabilities, families with young children, and the elderly.
Free After 6pm Parking in Blackpool
York Street FY1 5AQ – 0,2 miles
Shannon Street FY1 5AL –0,3 miles
Bairstow Street FY1 5BN – 0,3 miles
Princess Street FY1 5EQ – 0,4 miles
Blundell Street FY1 5DX – 0,4 miles
Clifton Street FY1 1JD – 0,7 miles
Talbot Road FY1 3AJ – 1,3 miles
Free Overnight & Weekend Parking in Blackpool
The streets below have restrictions during the weekdays, when they're only available for paid permit holders. However, during the night and over the weekend these streets become unrestricted which is helpful for people staying overnight in town.
• Albert Road FY1 4PW – 6pm-9am every night – 0.6 miles
• South King Street FY1 4ND – 5pm-9am every night & all day Sundays – 0.6 miles
• Regent Road FY1 4LY – 6pm-8am every night & all day Sundays – 0.5 miles
• Leamington Road FY1 4EZ – 6pm-8am every night & all day Sundays – 0.3 miles
Cheapest Paid Parking Options in Blackpool
If you're looking for the security and convenience of an official car park, it doesn't need to break the bank. We've researched the cheapest car parks in Blackpool and listed them here for your convenience.
• Houndshill Shopping Centre FY1 4NY – £2.70 for 2 hours
• Jaggy Thistle FY1 5AP – £2.50 for 2 hours
• York Street FY1 5BS – £2.50 for 2 hours
• Reads Avenue FY1 4DE – £2.00 for 2 hours
• Bethesda Square FY1 5EF – £2.50 for 2 hours
• Hornby Road FY1 4QP – £1.70 for 2 hours
• Central Reads FY1 4JF – £2.10 for 2 hours
• Metropole Hotel FY1 1RE – £2.00 for 2 hours
• General Street FY1 1RX – £2.30 for 2 hours
• Travelodge Seymour Road FY1 6JJ – £2 for 2 hours
• St Cuthberts Church FY1 6EU – £2.00 for 2 hours
Blackpool is a lively seaside town with a lot of fun things to do for everyone in the family. It would be a shame to waste time and money on your trip looking for parking instead of enjoying your time there. We hope the information on this page makes the process smoother.
Free and Paid Parking Near Popular Blackpool Locations
Free Parking near Blackpool Tower
Free Parking near Central Pier
Free Parking near Blackpool South Train Station
Free Parking near Blackpool Pleasure Beach
Free Parking near Blackpool Zoo
Free Parking near Blackpool Airport
Free Parking near Bloomfield Road Stadium