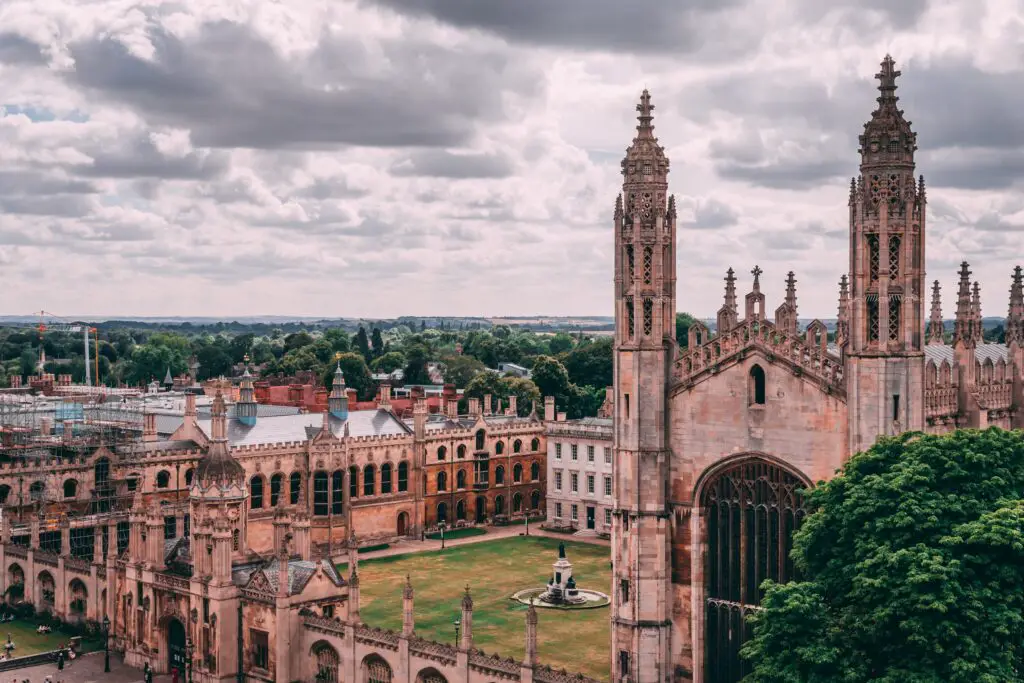 Cambridge is a city around 55 miles north of London. Sitting on the River Cam, the city is most famous for its university which was first established in the 13th century. More recently, it has become a forerunner in technology, including producing the AstraZeneca vaccine for Covid-19. Cambridge sits at the centre of the so-called 'Silicon Fen', an area home to a number of high-tech companies. There is also a thriving arts scene with many festivals occurring throughout the year.  Including its almost year-round student population, Cambridge is a smaller city of around 150,000 inhabitants. 
As with many popular cities, Cambridge can be difficult to park your car in when visiting. Because of the age of the city and listed status of many buildings, a lot of the streets in central Cambridge are very narrow and offer few options for parking nearby. Paid car parks can get costly very quickly, and there is a lot of competition for spaces.
On this page, we've found the best free parking options for Cambridge, as close as possible to the city centre. So if you're looking for where to park in Cambridge, see the map below for a quick breakdown and read on for more information on free and cheap parking within the city.
Free Parking in Cambridge
Free Car Parks in Cambridge
Gwydir Street CB1 2LW – free from 5pm-8am every night
Sun Street CB5 8DZ – free from 5pm-8:30am every night
Adam and Eve Street CB1 1DX – free from 7pm-9am every night
Castle Hill Car Park CB3 0AR – free from 7pm-9am every night
Lammas Land Parking CB3 9PA – free from 4pm-9pm every night during off-season (Nov 1-March 31)
A good option in cities can be to park in residential streets. This can be difficult and time-consuming if you're unfamiliar with a place, so we've compiled a short list of the best streets to find free parking in Cambridge. In order of distance from the city centre:
Eltisley Avenue CB3 9JQ, 1.2 miles – Walking from here can take you through lovely green spaces like Lammas Land and Coe Fen. The route also includes sights like the Mathematical Bridge and Pembroke College, and passes a large amount of museums before the city centre.
Chalmers Road CB1 3SX, 2.1 miles – Chalmers Road is a stone's throw from Cambridge City Airport. You can walk past Cambridge train station and the Botanic Gardens on your way into town.
Norman Way CB1 3LH, 2.2 miles – Similar to above, this street is south-westerly to the city centre and the route will take you along Mill Road. This lively street is full of eateries with cuisine from all over the world, and world food shops. You can also walk by or through Parker's Piece.
Ward Road CB1 2SY, 2.2 miles – Another south-westerly street with a similar route to Norman Way.
Rosemary Lane CB1 3LQ, 2.3 miles – This is another street very close to the Cambridge City Airport. Again, you would walk into the city centre from the west and pass many shops, museums, and university buildings.
The main advantage of parking on a residential street (apart from being free!) is that you essentially have 24-hour parking and can return to the car as and when you like instead of being beholden to a time limit as you would in a conventional car park.
When using residential streets to park, be courteous of the people who live and work there. Don't park over driveways or on double-yellow lines, keep noise at a minimum (especially in the evening and at night), and double check for any signage showing parking rules, if applicable. Parking outside of a secure car park is done so at your own risk.
Free parking can come at another kind of cost – time and effort. It can take longer to find a space and park up, with no guarantee that you will manage to get one. Walking from the street to the city centre can be difficult for disabled people, the elderly, and families with small children.
As you can also see, there aren't an enormous amount of options for free parking in Cambridge, so we've also put together a list of the cheapest parking we could find in the city for more convenience.
Cheapest Parking Options in Cambridge
Sun Street CB5 8DZ – £1.80 for 2 hours
Queen Anne Terrace Car Park CB1 1ND – £3.20 for 2 hours
Riverside Car Park CB5 8HQ – £2.40 for 2 hours
Cambridge Leisure Park CB1 7GX – £3 for 2 hours
The Boathouse CB4 3AX – £1.20 for 2 hours
Lammas Land Car Park CB3 9PA – £2 for 2 hours
Shire Hall CB3 0AP – £2.60 for 2 hours Mon-Sat, £1.60 for 2 hours Sun
Castle Court CB3 0AP – £2.60 for 2 hours Mon-Sat, £1.60 for 2 hours Sun
Cambridge North Station CB4 1UN – £2 for 2 hours
Cambridge Park & Ride Services
A final opportunity to consider are the Park & Rides that service Cambridge centre. Parking your car here is free, but you will need to pay for the bus. This can quite often work out a lot cheaper than using a central car park. Other advantages of the Park & Ride include an abundance of parking spaces, buses running regularly (on average every 15 minutes), and being able to avoid the stress of driving in congested traffic. 
You can park for up to 18 hours at a time (any longer incurs a charge), making it an ideal option if you require a longer stay, and car parks are open 24/7. Park & Ride buses are equipped with air conditioning, free customer Wi-Fi, and USB charging ports. See below for information on the Park & Rides and bus fares:
Milton Road: 792 free parking spaces – This bus route comes into the city via the Science Park, over the River Cam and past Jesus College. The route also passes several green spaces including Midsummer Common and Christ's Pieces.
Newmarket Road: 873 free parking spaces – This is the most convenient route to access Cambridge City Airport and Cambridge United FC at Abbey Stadium. There are also stops right next to the Grafton Shopping Centre.
Madingley Road: 930 free parking spaces – Coming in from the west of the city, this bus route offers a good view of a lot of university colleges including Trinity, St. John's, and Magdalene. Other stops are near historical sites like Castle Hill and Newton's Apple Tree.
Trumpington: 1340 free parking spaces – This Park & Ride sits to the south of the city. On the way to the centre, the bus stops off at parks like Lammas Land and the Cambridge University Botanical Gardens, and passes a large majority of the many museums Cambridge has to offer.
Babraham Road: 1458 free parking spaces – Another southerly car park, most convenient for getting to Royal Papworth and Rosie hospitals. The route also passes by Homerton and Downing Colleges, Cambridge Junction, Cambridge train station, and Parker's Piece.
The prices for all Cambridge Park & Ride sites are:
Adult Short Hop £2.50
Adult Day Rider (including up to 3 children) £3.00
Group Ticket (for up to 5 people) £8.50
Though there are fewer options than a lot of other cities, it's still possible to find free or discounted parking in Cambridge city centre. We hope that, armed with this information, you can save some money on parking in order to fully enjoy your time in Cambridge.
Free & Paid Parking Near Popular Cambridge Locations
You can use the maps below to find both free and paid parking options near some of the popular Cambridge locations and attractions. The yellow pins on the maps are the free parking and the P symbol in an orange circle are the nearest paid parking options.
Free & Paid Parking Near Cambridge Market Square & Museums
Free & Paid Parking Near Cambridge Train Station