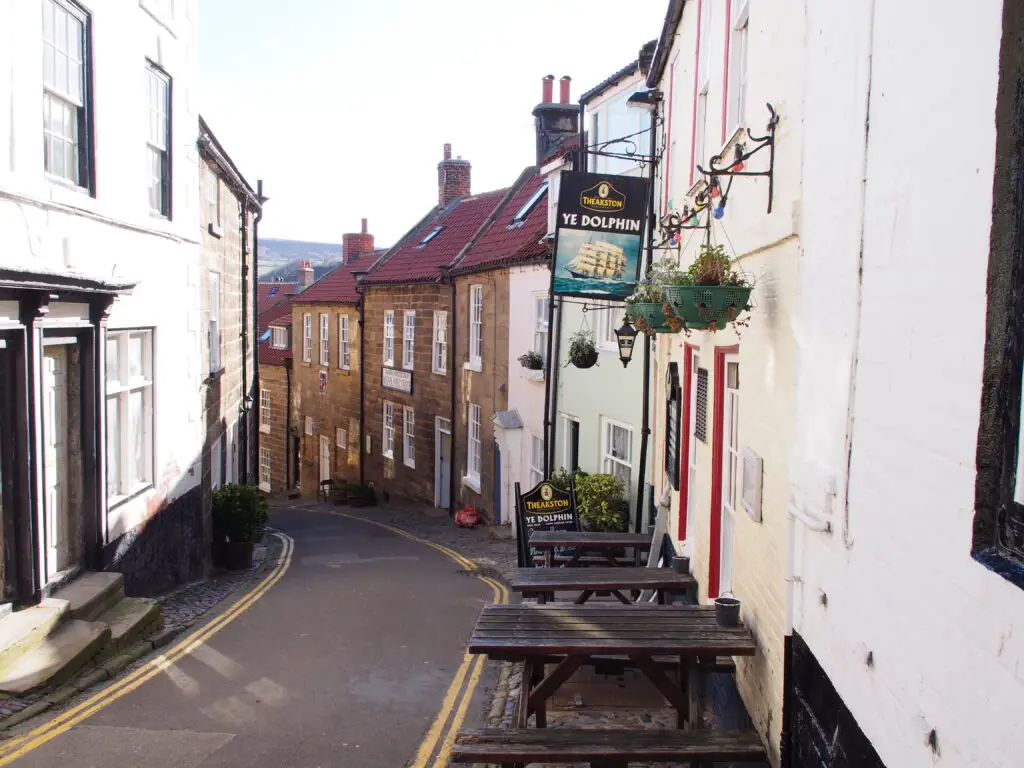 Whitby is a picturesque seaside town in North Yorkshire which sits at the mouth of the River Esk. Though the population is small, it's one of the most popular seaside resorts in Britain and welcomes many visitors due to its rich maritime and cultural history.
Probably the most famous thing about Whitby is the ruins of the Abbey, originally built around the 12th century. It sits on the cliffs overlooking the harbour and is a formidable and familiar sight. The Abbey and the town itself are also famously featured in the novel Dracula by Bram Stoker, making it a must-visit for both literature buffs and people in the Gothic subculture. Whitby has leaned into this by hosting Whitby Goth Weekend since 1994 – this festival attracts visitors from all over the world. There are also many indie, alternative shops in the town as a result of its status as a Gothic pilgrimage.
Whitby is also where Captain Cook, who later went on to discover and chart east Australia and Hawaii, learned seamanship – a replica of his ship, the Endeavour, is a tourist attraction in Whitby harbour. The town is where valuable Whitby Jet was mined and perfected – this material was particularly popular during the Victorian era, when it was used in mourning jewellery. Aside from the history and culture that lives in Whitby, the town itself is quaint and pretty with close access to the wild North Yorkshire Moors.
Because of its small size and winding, cobbled streets, Whitby can be a difficult place to park. Central car parks can get expensive quickly, and it's difficult to know which streets you are permitted to park in. On this page, we've gathered the best free parking options in Whitby for your convenience. See the map below for a quick look, or read on for more information and parking opportunities.
Free Overnight Parking in Whitby
If you're looking to stay in Whitby and wonder where you can park your car for free overnight, there are options for this. While the below roads are restricted during the day, they become unlimited during the nights from 6pm-9am.
Pavilion Drive/Top YO21 3EN
West Cliff YO21 3EG
St Hildas Terrace YO21 3AE
Endeavour Wharf & Marina Front YO21 1YN
Church Street YO22 4AS
Abbey Headland YO22 4JT
Parking in residential streets or out-of-hours, though free, incur a different kind of cost: time and effort. It's not guaranteed that you will find a space in these streets, and it could take a while. There's also the added effort of then walking to the places you want to visit, which could be difficult for disabled people, the elderly, and younger children.
Due to its popularity, Whitby uses Controlled Parking Zones in the town centre. These are times when a permit is required to be able to park in a certain place, and all other parking is restricted. Permits can be obtained, but you have to pay for them. Your best bet is to park in residential streets with less or no restrictions. This can be difficult if you're not familiar with the area, and don't want to waste time finding somewhere suitable to park.
In the list below are some residential streets in which you can park without a permit. The caveat to this is that some of them have time restrictions, so be sure to always check signage in the roads to make sure that you know about any time limit you have to observe. The lists are ordered in direction from the town, and walking distance to the centre.
From a southerly residential street, you can stroll up the harbour side, stopping at several attractions like the Captain Cook Memorial Museum and the Dracula Experience. The route will go through the main shopping area, before leading to the harbour and beaches. There is also the option to branch off and climb the famous 199 Steps to Church of St Mary and Whitby Abbey.
Gray Street YO21 1EP – 3 miles
Lyndhurst Close YO21 1EQ – 4 miles
George Street YO21 1EW – 4 miles
Cleveland Terrace YO21 1PB – 4 miles
Falcon Terrace YO21 1EH – 4 miles
Gledhill Drive YO21 1LS – 5 miles
Meadowfields YO21 1QF – 5 miles
St Marys Crescent YO22 4ER – 6 miles
The Ropery YO22 4EY – 6 miles
Captain Cook Crescent YO22 4HL – 8 miles
Pembroke Way YO21 1NT – 9 miles
St Andrews Road YO21 1LH – 1 mile
From the west you have several options for getting into the town centre. You can walk along the cliff side overlooking the sea, where you'll find the Whalebone Arch and Bram Stoker's Bench. A slight detour to Pannett Park and Whitby Museum is possible before hitting the beginning of the shops and the harbour. Wherever you park in this small town, there isn't a long walk to get to where the main attractions are.
Newton Street YO21 1QX – 2 miles
Well Close Terrace YO21 3AR – 3 miles
Walker Street YO21 1QT – 3 miles
Spring Vale YO21 1JG – 5 miles
Kirkham Road YO21 1HE – 6 miles
Kirkham Close YO21 1JR – 6 miles
Station Avenue YO21 3EB – 7 miles
Marlborough Avenue YO21 3JE – 9 miles
White Point Avenue YO21 3JG – 1 mile
Mulgrave Road YO21 3JS – 1 mile
Valley Road YO21 3JN – 1 miles
Mulgrave Crescent YO21 3JU – 1 miles
As well as checking for any signage stating parking limits, be sure to observe the usual rules for on-street parking. Don't park over entrances or driveways, or on double-yellow lines. Be courteous of the people who live there by keeping noise down, particularly in the evening and at night. Remember that parking in residential streets is done so at your own risk.
Also be aware that all of these streets are downhill from the Abbey, and will require a walk up the 199 steps. We wouldn't recommend parking outside of the official car park if people in your party find it difficult to walk up inclines.
Cheapest Paid Parking Options in Whitby
If you would like the convenience and security of an official car park, paid parking is available. Some of them are quite pricey, so we've compiled a list below of the cheapest options we could find, including postcodes for your GPS and the prices for 2 hours' stay.
Cliff Street YO21 3DD – £2.90 for 2 hours
Silver Street YO21 3BX – £2.50 for 2 hours
St Hildas Terrace YO21 3AE – £2.90 for 2 hours
The Co-Operative Food, Langborne Road YO21 1YW – £2.00 for 2 hours
Marina Harbour YO21 1YN – £3.00 for 2 hours
Your day out in Whitby doesn't need to be marred with the stress of expensive parking. Instead, save your money and use it to enjoy the beauty and history of this little town. We hope that the information we've provided helps to make your trip as smooth as possible.
Free and Paid Parking Near Popular Whitby Locations
Free Parking near Whitby Abbey
Free Parking near the Cinder Track
Free Parking near Whitby Museum & Pannett Park
Free Parking near Whitby Train Station & Centre
Driving to Whitby doesn't need to break the bank. With the information we've provided, and a bit of pre-planning, you can find free parking spaces around the city. The money you save can then be used for the many sights and attractions this vibrant city has to offer.