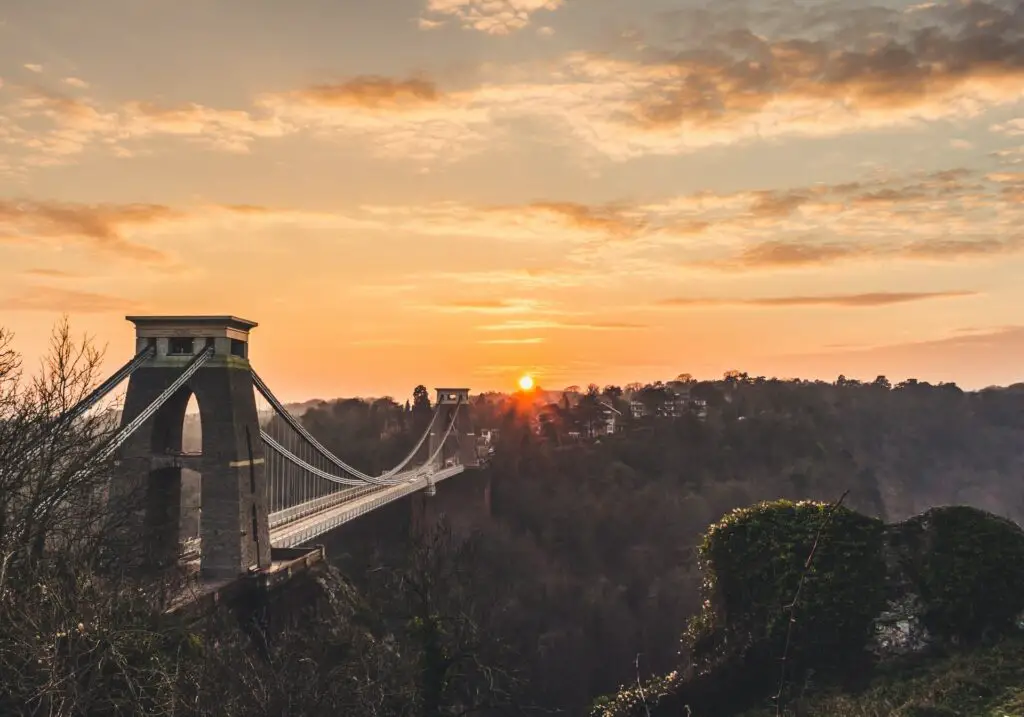 This page was updated in October 2023
Free and Paid Parking in Bristol
While ParkingScout takes every step to ensure that the parking information provided is accurate at the time of writing, parking prices and availability change with time. ParkingScout accepts no responsibility for any fines or tickets, or loss of or damage to property as a result of using our website.
Happy parking!
Free, Unrestricted Residential Streetside Parking
One way to park for free in Bristol is to use residential streets. Usually this would be difficult if you're unfamiliar with the city, and it would take a lot of driving around and looking for streets with available space. We've compiled a list of all of the streets with free parking opportunities below, including postcodes and their distance from the city centre. The list is divided into directions you may approach Bristol from, to help you find the most convenient options.
Remember that people live and work in these streets. Keep noise to a minimum, particularly in the evenings, don't park on double yellow lines or over driveways, and be sure to double-check for any signage on the street with parking rules, if any.
North Bristol
Parking in the north of Bristol is ideal for the more creative tourist. The walk to the city centre will take you through the artsy Gloucester/Cheltenham Road, a bright cornucopia of street art, eccentric people, quirky bars, and cuisine from all over the world – all in one place!
Lower Ashley Road BS5 0YL, 1.2 miles
Cromwell Road BS6 5HB, 1.4 miles
North Road BS6 5AJ, 1.4 miles
Belvoir Road BS6 5DQ, 1.4 miles
Chesterfield Road BS6 5DU, 1.4 miles
Horley Road BS2 9TL, 1.4 miles
Burghley Road BS6 5BN, 1.5 miles
Oxford Place BS5 0NR, 1.5 miles
Cambridge Park BS6 6XN, 1.9 miles
Downleaze BS9 1LY, 2.3 miles
Julian Road BS9 1NQ, 2.3 miles
Ivywell Road BS9 1NX, 2.4 miles
Cossins Road BS6 7LY, 2 miles
East Bristol
Anyone between Bath and London will find these streets most convenient to park in. No matter which direction you come from, these eastern streets are the closest you can get to the city centre without having to pay. Keep your eyes peeled for Banksy paintings on your walk to town!
Barton Manor BS2 0RL, 0.8 miles
Saint Philips Road BS2 0JS, 0.9 miles
Sussex Street BS2 0RA, 1 mile
Folly Lane BS2 0RH, 1 mile
Days Road BS2 0QS, 1.1 miles
George Jones Road BS2 0QP, 1.1 miles
Chancery Street BS5 0AA, 1.3 miles
Lincoln Street BS5 0BJ, 1.4 miles
Peters Terrace BS5 0BW, 1.4 miles
South Bristol
Parking in the south of Bristol is one of the better ways to get close to the city centre including the famous waterfront, the bustling shopping quarter, and several entertainment venues including the Hippodrome and o2 Academy. You will also be nearer to Brunel's SS Great Britain and Brandon Hill.
William Street BS3 4TY, 1 mile
Richmond Street BS3 4TH, 1.1 miles
Green Street BS3 4UA, 1.1 miles
Stevens Crescent BS3 4UJ, 1.2 miles
Gladstone Street BS3 3AY, 1.5 miles
West Bristol
The west side of Bristol is a more convenient place to park for those coming over from Wales or the West Country. It's a bit more of a walk to the centre, but you will pass the famous College Green and M Shed, the independent theatre on the waterfront, on your way.
Park on the west of the city if you want to visit the swanky Clifton neighbourhood, including the marvellous 101-metre-tall Clifton Suspension Bridge. You will also be closer to the Bristol Zoo and the Clifton Observatory.
Burwalls Road BS8 3PT, 2.3 miles
Bannerleigh Road BS8 3PF, 2.3 miles
Paxton Drive BS3 2BE, 2.4 miles
Getting free parking on residential Bristol streets does come at a kind of cost – time and effort. The walk into the centre may be difficult for the elderly, disabled people, and small children. It can also take some time to find available space and there are no guarantees that you will get one.
In the West of Bristol you will also find the Bristol Airport, which has lots of parking options.
Free Overnight Car Parks in Bristol
Don't fancy the idea of leaving your car streetside overnight but don't want to pay a fortune for parking either? Check out this list of car parks that offer free overnight parking. 
Diamond Street BS3 3LF – Free between 5pm and 9am
Little Paradise BS3 4NE – Free between 5pm and 9am
Hereford Street BS3 4NA – Free between 5pm and 9am
Sheene Road BS3 4JE – Free between 5pm and 9am
Ducie Road BS5 0AF – Always free, Max stay 3h Mon-Sat 8am-6pm
The Mall, Cribbs Causeway BS34 5DG
A great way to save on parking is to make use of Park and Ride services. While this often requires leaving your car in a secure parking lot a few miles from your destination, Park and Rides typically offer parking at a low enough price to justify the inconvenience and price of the transport ticket. 
Long Ashton Park & Ride BS3 2HB – Southwest of Bristol | 2h Free parking
A4 Bath Road Park & Ride BS4 5RU – Southeast of Bristol | 2h Free parking
Portway Park & Ride BS11 9QE – Northwest of Bristol | 2h Free parking
Brislington Park & Ride BS4 5RU – Southeast of Bristol | Free all-day parking
Cheapest Paid Parking Options near Bristol City Centre
If you would rather have the convenience of parking near the centre of Bristol, there are paid options that are closer to main attractions. The prices can be very high in some places, so we've compiled a list of paid car parks with the cheapest rates, including postcodes to help you find them easily.
Wapping Wharf Car Park BS1 4RH – £2.50 for 2 hours
The Galleries BS1 3XD – £3.40 for 2 hours
Trenchard Street Car Park BS1 5AN – £5.00 for 2 hours
The Grove Car Park BS1 4RB – £5.00 for 2 hours
Portwall Lane Car Park BS1 6AL – £5.00 for 2 hours
West End Car Park BS8 1EH – £5.00 for 2 hours
Frog Lane Car Park BS1 5UY – £5.00 for 2 hours
College Street Car Park BS1 5AF – £5.00 for 2 hours
Pre-planning your trip to Bristol can make driving into the city much cheaper. Using the information we've provided, you can find a free or cheaper parking space and save up to £20+ every single day!
Free and Paid Parking Near Popular Bristol Locations
Free Parking Near Bristol City Centre & Waterfront
Free Parking Near Clifton Suspension Bridge
Free & Paid Parking Near Bristol Cabot Circus/Shopping Quarter
Free & Paid Parking Near Bristol Temple Meads Station
Free & Paid Parking Near Bristol Zoo
Bristol is a city in the southwest of England with a population of over 700,000 people. Sitting upon the Avon River, the city began as an important port and has a rich maritime and industrial history. Bristol has a rich blend of architectural styles – from the Georgian elegance of Clifton, to the Brutalist post-war buildings of the 1950s.
Nowadays, Bristol is a well-known hub for the arts, particularly street art. Bristol is also the most culturally and ethnically diverse city in the southwest, with 50 countries of origin identified in 2015. This has caused an incredibly varied number of restaurants and street food stalls to spring up, making Bristol the perfect spot for foodies too.
As with most cities in Britain, Bristol can be a challenge to drive into. One of the main issues people face is affordable parking – parking in city centres can add up and become extremely costly. It can also be very difficult to find available spaces, considering that Bristol and its surrounding areas see around 20 million tourists per year!
If you need to stay overnight in Bristol and want easy parking options, you can check out our guide on Bristol hotels with parking.