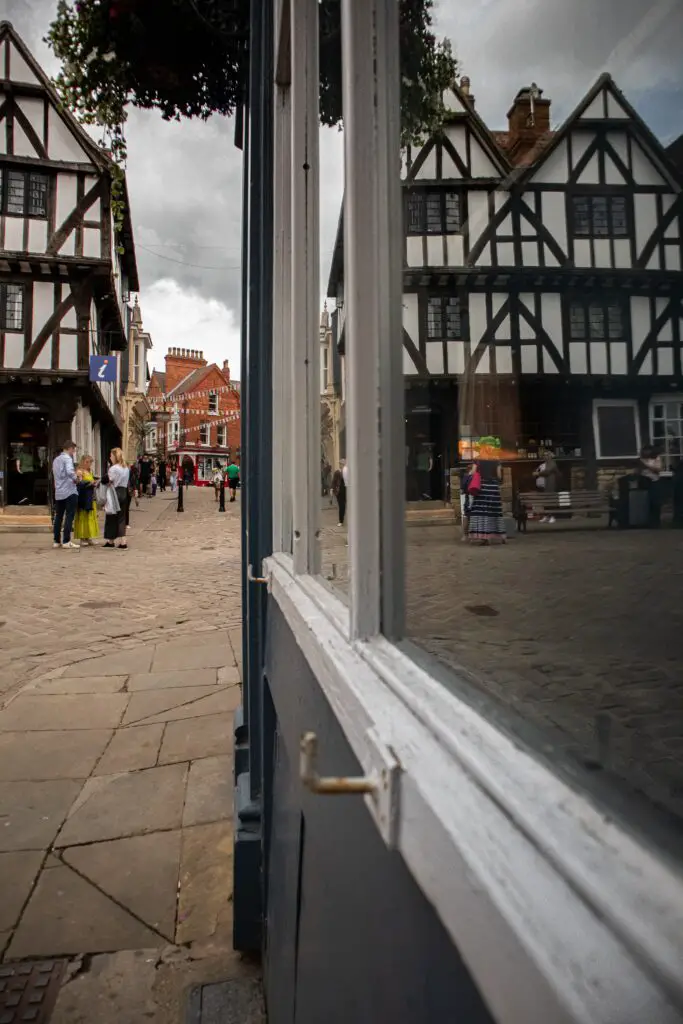 Lincoln is a cathedral city in the East Midlands. Its name comes from the Latin Lindum Colonia after the Romans landed and developed a previously existing Iron Age settlement on the River Witham. The city boomed in the Industrial Revolution, excelling in building locomotives and heavy machinery.
There is also a lot of military history in Lincoln – the first ever tanks were invented, designed, and produced there. Many other military vehicles, machines, and munitions were built there too. Although heavy engineering ebbed as an industry at the end of the 20th century, Lincoln still has many museums showcasing these origins and history. Other cultural interests include several art galleries and Lincoln Football Club, who play at the Sincil Bank stadium.
These days, the population of Lincoln is around 100,000 people. You can still find many historical buildings like Lincoln Cathedral, Lincoln Castle, and Newport Arch (a structure from the 3rd century which still stands). There is also a lot of 11th-13th century architecture still present around the city.
Parking in cities can be a challenge. In the case of Lincoln, the difficulty is compounded by its narrow, ancient streets. On this page, we've gathered all of the free parking options for the city. See below for a map of them all, and read on for extra information and tips.
Free Car Parks in Lincoln
There are free car parks in Lincoln – the catch is that they're for customers only. However, they can be used temporarily to go to nearby areas, as long as you visit the shops first. These car parks also have a maximum stay, making them most convenient for a quick trip in the city centre.
Tesco Canwick Road LN5 8HS – 2 hours maximum
B&Q Beevor Street LN6 7DJ – 2 hours maximum
Tesco Wragby Road LN2 4QQ – 2 hours maximum
Tritton Retail Park LN6 7AN – 2 hours maximum
Morrisons Tritton Road LN6 7QL – 2 hours maximum
Valentine Shopping Park LN6 7BH – 3 hours maximum
The best information to have when it comes to parking is local knowledge of residential streets. These usually offer free, unrestricted parking if you know where to go. Below, we've shortlisted the residential streets with parking opportunities to streamline your search for a free space. The lists are organised into direction from the city centre, and walking distances from each place.
Parking to the north of the city is most convenient for accessing the centre. This direction is also ideal for getting to Lincoln Cathedral, Museum of Lincolnshire Life, and the Arboretum. To get into the centre, you can walk down the historic Steep Hill, and will cross over the River Witham.
• Beaumont Fee LN1 1EZ – 0.2 miles
• Church Lane LN2 1QJ – 0.6 miles
• Stonefield Avenue LN2 1QL – 0.6 miles
• Hereward Street LN1 3EW – 0.7 miles
• Lee Road LN2 4BH – 1.1 miles
These easterly streets are especially convenient for accessing Lincoln County Hospital. You will also find Monks Abbey, Lincoln Arboretum, and the New Theatre Royal on your way to the city centre.
• Eastcliff Road LN2 5RU – 0.6 miles
• Winn Street LN2 5ER – 0.8 miles
• Tempest Street LN2 5NB – 0.9 miles
The south of the city offers the most options for parking in residential streets. Parking in these streets will put you close to the Lincoln train station. The route into town will go over the High Bridge on the River Witham and through the Waterside Shopping Centre, before you get to the main shopping streets of the city. A walk from the south will also take you via the Lincoln Guildhall.
• Kesteven Street LN5 7LH – 0.6 miles
• Cross Street LN5 7LT – 0.7 miles
• Trollope Street LN5 7LR – 0.7 miles
• Chelmsford Street LN5 7LL – 0.7 miles
• Ripon Street LN5 7NL – 0.8 miles
• Sincil Bank LN5 7TQ – 0.8 miles
• Thesiger Street LN5 7UL – 0.9 miles
• Kirkby Street LN5 7TU – 0.9 miles
• Hood Street LN5 7XB – 0.9 miles
It's important to remember the rules for on-street parking if you're using residential streets. Avoid blocking driveways and entrances, and never park on double-yellow lines. Check the immediate area for any signage about parking restrictions before you leave your vehicle, and keep noise to a minimum – especially during later hours.
Free Parking in Lincoln on Sundays & After 6pm/Overnight
Some streets that are usually restricted during the day become unrestricted overnight, making them ideal to park on if you plan to stay over in Lincoln. The streets listed below are available after 6pm every night, but be sure to check when the restrictions come into force so you can move your vehicle before that time. They are also available all day on Sundays, making them one of the best options for free parking if you're having a Sunday day trip to the city.
• Victoria Terrace LN1 1HZ – 0.2 miles
• Bailgate LN1 3AR – 0.4 miles
• West Parade LN1 1QL – 0.4 miles
• Union Road LN1 3BJ – 0.4 miles
• Vine Street LN2 5HZ – 0.4 miles
• Westgate LN1 3BG – 0.5 miles
• Burton Road LN1 3LB – 0.5 miles
• Cecil Street LN1 3AU – 0.6 miles
• Williamson Street LN1 3DL – 0.7 miles
While parking on residential streets is free, it can cost in other ways – namely in time and effort. There's no guarantee that you will find a space, and then you have to walk from your parking site to the town centre. It may not be the most ideal option for people with disabilities, groups with younger children, or elderly people. There is also more of a risk associated with parking on unregulated residential streets – please bear this in mind if you choose to park there.
Cheapest Paid Parking Options in Lincoln
If you would prefer the security and convenience of a car park, there are still options that don't need to break the bank. The best by far is the High Street car park, at the top of the list – not only is it affordable, it's also right in the centre of the city, making it the most convenient place to park. Aside from that, there are plenty of other paid parking options in Lincoln.
High Street LN5 7PS – £2.20 for 2 hours, £1.50 overnight (6pm-5am)
Ropewalk LN6 7DQ – £2.40 for 2 hours, £10.00 for 24 hours
Sewell Road LN2 5QX – £3.00 for 2 hours
Broadgate LN2 5AP – £3.00 for 2 hours
Rosemary Lane LN2 5AT – £3.00 for 2 hours
Chaplin Street LN5 7BN – £3.00 for 2 hours
Orchard Street LN1 1DD – £3.20 for 2 hours
Castle Hill LN1 3AA – £3.20 for 2 hours
The Lawn LN1 3BU – £3.20 for 2 hours
St Pauls Lane LN1 3AL – £3.20 for 2 hours
Westgate LN1 3BG – £3.20 for 2 hours
Lincoln is a charming small city with a long history to explore, and a surprising amount of places to park for free. We hope that the information on this page is helpful in finding your best option for parking and enjoying your trip to the county city.
Free and Paid Parking Near Popular Lincoln Locations
Free Parking near Lincoln Cathedral
Free Parking near Lincoln Train Station
Free Parking near Lincoln Castle