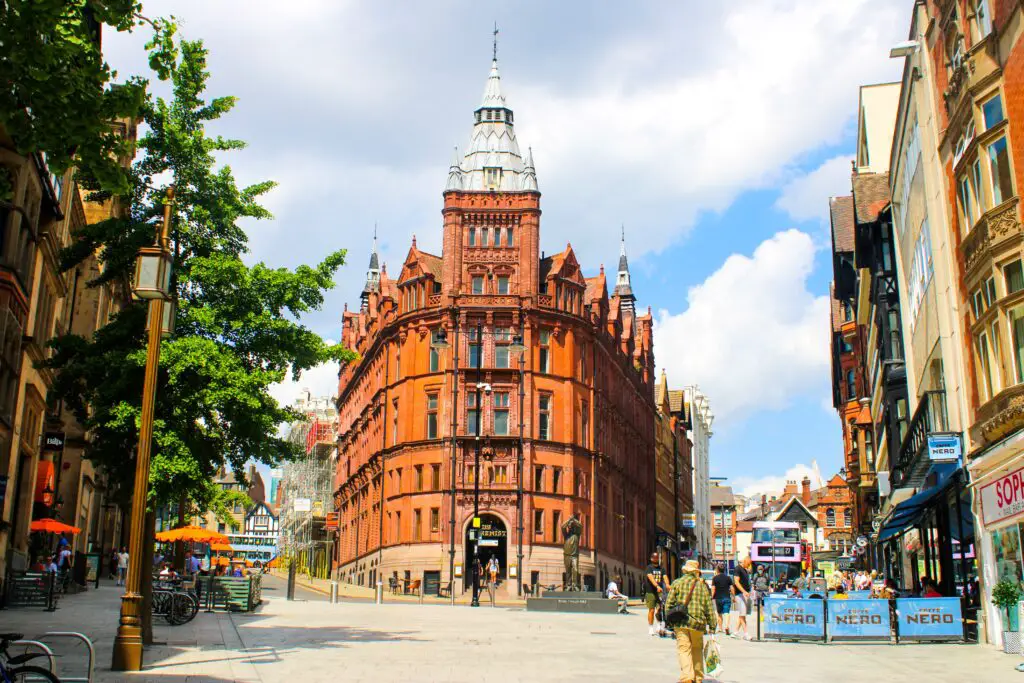 Nottingham is a city in the East Midlands, situated on the lower valley of the River Trent. It's surround by natural beauty, including Sherwood Forest to the north. It's probably most famous for the legend of Robin Hood, the folk hero who stole from the rich in order to help the poor.
Nottingham Castle was constructed in 1068, and the city grew out from there over the centuries. During the Industrial Revolution, Nottingham became a big textiles manufacturer, particular in lace-making. This industry declined following the Second World War, but many original industrial buildings still exist and have been restored or put to other uses.
History is very apparent in Nottingham straight away with varied architecture ranging from Gothic Revival, Georgian, and Victorian styles. The tram system, originally stopped in 1936, was restored in 2004 giving travelling around the city a quaint feel. Many museums document the city's history including the National Justice Museum, Industrial Museum, and Greens Windmill & Science Centre.
Today the population of Nottingham is around 330,000 including 62,000 students at the city's three universities. The city welcomes an average of 36 million visitors every year.
Culture is also thriving in Nottingham with many theatres and entertainment venues like the Albert Hall, Rock City, and Nottingham Arena. The city has produced several well-known British actors including Lennie James and Vicky McClure. There is an active classical music scene and Blackpool has its own Philharmonic and Symphony orchestras. There is also a thriving hip hop scene, and the music festival at Wollaton Park (Splendour) is popular. Other annual events in Nottingham include Pride, Robin Hood Live, Asian Mela, and the Goose Fair.
In 2015, Nottingham was named the 'home of English sport'. It has large sports centres like the National Ice Centre, Holme Pierrepont National Watersports Centre, and the Trent Bridge Cricket Ground. The city is also home to Nottingham County (the world's oldest professional football club) and Nottingham Forest football clubs.
Due to Nottingham's popularity, it can be difficult to find car parking in the city that doesn't cost a fortune. On this page, we've gotten together all of the free parking opportunities in one place for your convenience. Check out the map below for a quick look, or read on for more information and options.
Free Parking in Nottingham
Free Car Parks in Nottingham
Castle Marina Retail Park NG7 1GX – up to 2 hours, customers only
Caulton Street NG7 5DQ – up to 2 hours
Belper Road NG7 5FT – up to 2 hours
Garfield Road NG7 3AQ – up to 2 hours
Selhurst Street NG7 5EH – up to 2 hours
There are many residential streets in Nottingham that have unrestricted parking – if you know where to look for them. Fortunately, we've done that bit for you and have compiled a list of streets below, categorised by which direction they are from central Nottingham. You will also find the postcodes for these streets as well as the walking distance to the city centre.
The usual rules for on-street parking will of course apply if you choose to use this information. Be sure to keep driveways and entrances clear, and never park on double-yellow lines. Remember that you park on a public street at your own risk, and remember to check for any signage restricting parking times. Keep noise to a minimum, particularly later on, out of courtesy to those who live and work in the area.
Parking in the north of Nottingham will put you close to the Nottingham City Hospital. The walk into town will take you past Forest Recreation Ground and the Arboretum, as well as Nottingham Trent University.
• Lawson Street NG7 4AW – 0.8 miles
• Bovill Street NG7 3PG – 0.8 miles
• Manston Mews NG7 3QY – 0.8 miles
• Independent Street NG7 3LN – 0.8 miles
• Limpenny Street NG7 4AT – 0.8 miles
• Elmore Court NG7 4BE – 0.9 miles
• Forest Road West NG7 4EQ – 0.9 miles
• Ashforth Street NG3 4BG – 1 mile
• Ellis Court NG3 4QN – 1 mile
• Cope Street NG7 5AB – 1 mile
• Russell Road NG7 6HD – 1.2 miles
• Hungerhill Road NG3 3PN – 1.3 miles
• Heather Close NG3 4PQ – 1.3 miles
• Hazelwood Road NG7 5LA – 1.3 miles
• Kirkstead Street NG7 5EJ – 1.3 miles
• Burford Road NG7 6BA – 1.3 miles
• Laurie Avenue NG7 6PH – 1.3 miles
• Broad Oak Close NG3 3PR – 1.4 miles
• Bobbers Mill Road NG7 5JS – 1.5 miles
• Berridge Road NG7 6EQ – 1.5 miles
• Percival Road NG5 2EY – 2 miles
• Haydn Close NG5 2JY – 2.1 miles
• Burnham Street NG5 2FD – 2.1 miles
• Sceptre Street NG5 2HT – 2.2 miles
• Aspley Lane NG8 5GB – 2.2 miles
• Crossman Street NG5 2HR – 2.3 miles
• Victoria Road NG5 2NE – 2.3 miles
• Amersham Rise NG8 5QG – 2.3 miles
• Ledbury Vale NG8 5QH – 2.4 miles
• Albury Drive NG8 5QR – 2.5 miles
• Lincoln Street NG6 0FX – 2.6 miles
• Tenbury Crescent NG8 5HW – 2.6 miles
• Sandford Road NG3 6AL – 2.7 miles
Parking in an easterly direction is convenient for people wanting to visit the Greyhound Stadium or Wildcat Arena. The further streets are closest to these, and also to Colwick Country Park. Walking into the city, you will pass Green's Windmill and the Motorpoint Arena before getting to the historic Lace Market and Old Market Square.
• Westhorpe Avenue NG3 2BL – 1.2 miles
• Marham Close NG2 4GR – 1.3 miles
• Sneinton Dale NG2 4PH – 1.3 miles
• Ardmore Close NG2 4GP – 1.3 miles
• Trent Road NG2 4FB – 1.4 miles
• Hudson Street NG3 3DY – 1.5 miles
• Wigley Close NG3 3NQ – 1.5 miles
• Gordon Road NG3 2LE – 1.5 miles
• Ashfield Road NG2 4LR – 1.5 miles
• Dowson Street NG3 3DZ – 1.5 miles
• Dale Grove NG2 4LT – 1.5 miles
• Lichfield Road NG2 4GG – 1.6 miles
• Port Arthur Road NG2 4GD – 1.6 miles
• Ena Avenue NG2 4NB – 1.6 miles
• Holborn Avenue NG2 4LZ – 1.6 miles
• Westwood Road NG2 4FU – 1.6 miles
• Alma Road NG3 2NU – 1.6 miles
• Olga Road NG3 2NW – 1.6 miles
• Bracton Drive NG3 2LN – 1.6 miles
• Lyndhurst Road NG2 4FW – 1.6 miles
The south of the city offers plenty of on-street parking options. From this direction, you can pass Nottingham railway station, The Haunted Museum, and Nottingham Castle before you even get to the city centre.
• Woolmer Road NG2 2FB – 1.3 miles
• Wilford Crescent West NG2 2FT – 1.3 miles
• Bathley Street NG2 2LH – 1.3 miles
• Mundella Road NG2 2EP – 1.3 miles
• Holgate Road NG2 2EB – 1.3 miles
• Beauvale Road NG2 2EW – 1.3 miles
• Glapton Road NG2 2FN – 1.3 miles
• Wilford Crescent East NG2 2EF – 1.4 miles
• Lamcote Grove NG2 2GY – 1.4 miles
The following streets are further out from the city centre, but offer a nice walk across the River Trent via the Wilford Suspension Bridge.
• Millicent Road NG2 7LD – 1.8 miles
• Henry Road NG2 7NA – 1.9 miles
• William Road NG2 7QD – 1.9 miles
• Patrick Road NG2 7JY – 2 miles
• Edward Road NG2 5GE – 2 miles
• Main Road NG11 7AP – 2.1 miles
• Maplestead Avenue NG11 7AS – 2.2 miles
• Deane Road NG11 7GD – 2.3 miles
• St Ervan Road NG11 7BU – 2.3 miles
• St Mawes Avenue NG11 7BX – 2.4 miles
• Musters Road NG2 7AL – 2.4 miles
• Abbey Road NG2 5NG – 2.4 miles
• Seymour Road NG2 5EF – 2.6 miles
• Boundary Road NG2 7DB – 3.2 miles
Coming in from the west will take you directly to the city centre. However, you will also pass Nottingham Cathedral and the Rock City entertainment venue before you get to the Old Market Square.
• Garfield Road NG7 2AY – 1.1 miles
• Salisbury Street NG7 2BE – 1.2 miles
• Oakland Street NG7 5JQ – 1.3 miles
• Faraday Road NG7 2DU – 1.3 miles
• Kenslow Avenue NG7 5LD – 1.4 miles
Though the next set of streets are a bit further out from the city centre, they are more convenient for people who want to visit Wollaton Park, the Industrial Museum, and Wollaton Hall, Gardens & Deer Park. There is also convenient access to Queen's Medical Centre and the University of Nottingham.
• Friar Street NG7 2NU – 1.7 miles
• Dorket Drive NG8 1AD – 1.7 miles
• Harrow Road NG8 1FN – 2.2 miles
• Cambridge Road NG8 1FP – 2.4 miles
• Russell Avenue NG8 2BP – 2.6 miles
• Liddell Grove NG8 2BJ – 2.6 miles
• Tranby Gardens NG8 2AB – 2.7 miles
• Brook Road NG9 2RA – 3.2 miles
• Burrows Crescent NG9 2QX – 3.3 miles
• Herald Close NG9 2DW – 3.3 miles
• Dennis Avenue NG9 2RE – 3.3 miles
• Peveril Road NG9 2HU – 3.4 miles
• Humber Road NG9 2EX – 3.4 miles
As you can see, some of these residential streets are a bit of a walk from the city centre, which can make things difficult for elderly or disabled people, as well as young children. While parking in these streets is free, it can cost in a different way – time and effort.
Overnight & Weekend Parking in Nottingham
A handful of the streets that are restricted during the day in the city centre become unrestricted overnight and at certain times during the weekends. Here's a list of streets where this applies – also note that all on-street parking in zones 1, 2, and 3 are free from 10pm-8am every night.
Cliff Road NG1 1GY – 8pm-8am
Station Street NG2 3AJ – 10pm-8am
Regent Street NG1 5BQ – 10pm-8am
North Sherwood Street NG1 4EF – 10pm-8am
Uppingham Gardens NG2 3LD – 5pm-9am
Castle Road NG1 6AA – 10pm-8am
Peveril Drive NG7 1DE – 10pm-8am
Park Row NG1 6GR – 10pm-8am
Leen Gate NG7 2PN – 8pm-8am & all day Sundays
Penn Avenue NG7 2LU – 5pm-9am & all day Saturdays and Sundays
Wilford Grove – 5pm-9am & all day Sundays
Forest Park & Ride NG7 6AQ (972 spaces) – North, 10 mins to centre
Queens Drive Park & Ride NG2 1RS – South, 23 mins to centre
Wilkinson Street Park & Ride NG7 7NU (600 spaces) – North, 23 mins to centre
Racecourse Park & Ride NG2 4BE – East, 26 mins to centre
Phoenix Park Park & Ride NG8 6AS (657 spaces) – North, 24 mins to centre
Moor Bridge Park & Ride NG6 8AE (119 spaces) – North, 28 mins to centre
Clifton South Park & Ride NG11 8ES (1000+ spaces) – South, 22 mins to centre
Toton Lane Park & Ride NG9 7JB (1400+ spaces) – West , 42 mins to centre
Hucknall Park & Ride NG15 7TD (439 spaces) – North, 31 mins to centre
Cheapest Paid Parking Options in Nottingham
Paying for parking offers security and usually more convenience than using residential streets or a Park & Ride service. Some of the car parks in Nottingham can get very expensive, so we've made a list of the cheapest ones we could find.
Lower Parliament Street NG1 3BA – £3 for 2 hours
East Street NG1 3AY – £3 for 2 hours
Avalon Court NG1 3LS – £2 for 2 hours
County House NG1 1HF – £3 for 2 hours
Woolpack Lane NG1 1GJ – £3 for 2 hours
Cliff Road NG1 1GY – £2 for 2 hours
Curzon Street NG3 1DG – £2.60 for 2 hours
Union Road NG3 1FG – £2 for 2 hours
Sneinton Market Square NG3 1JB – £1.70 for 2 hours
Nottingham is an interesting and historical city with a blend of old and new cultures. Finding free or cheaper parking is bound to make your trip there more comfortable and more convenient, leaving you time and money to enjoy what the city has to offer. We hope the information on this page can be of help when planning your visit.
Free and Paid Parking Near Popular Nottingham Locations
Free Parking near Nottingham Castle
Free Parking near Nottingham Train Station
Free Parking near Old Market Square and Victoria & Broadmarsh Shopping Centres
Free Parking near Nottingham Forest Football Club